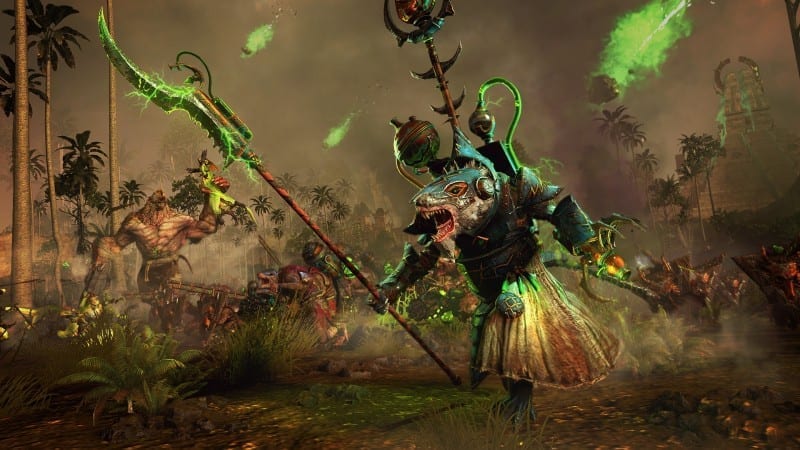 Total War: Warhammer 2 – Playing As Ikit Claw Is A Blast!
Destiny 2 – The Revelry Spring Event Guide
Siege Of Centauri Preview – That Escalated Fast
Anno 1800 Guide: Quick And Easy Tips For Your Voyage
Week In PC Game Releases: World War Z Runs Amok And Anno 1800 Sets Sail
Anno 1800 Review: Industrial Devolution
Total War: Warhammer 2's newest legendary lord Ikit Claw comes from the Prophet and Warlock DLC, and he's… the bomb!
The newest DLC for Total War: Warhammer 2 — The Prophet and the Warlock — is now available. Go ahead and play as Ikit Claw and Tehenhauin!
Showtime is putting a leprechaun in the Master Chief's armor.
It could very well be the shoes.
Destiny 2's spring event, known as The Revelry, is here. You'll have a chance to get the new Arbalest exotic as well.
Ubisoft has pledged €500,000 to aid in the restoration of Notre-Dame. Also, Assassin's Creed Unity will be free-to-own for an entire week.
Obsidian writer discusses its cancellation and similarities to the Prometheus movie.
Two Point Hospital is getting co-op in the new "Superbug Initiative" update, which is currently available in beta on Steam.
Destructive races are coming to Solis in the form of a new downloadable content pack.
The Siege of Centauri Early Access launch offers promising gameplay that hints at things to come. It just needs to address some balancing issues and develop a stronger personality to stand out.
Improvements are coming as Hello Games tackles performance with Vulkan.
Anno 1800 is all about city-building and management. Here are some quick tips and money-making strategies for newcomers eager to set sail.
The "world's thinnest laptop with a discrete graphics card" is now available for pre-order: the ASUS ZenBook S13.
A YouTube sleuth has discovered an item hidden deep in the code of Sekiro, one that leads to more dialogue options no longer in the game.
Anno 1800 has set sail but your journey is far from over. Its season pass and free content updates will add more flavor to your voyage.
Read More News
Active comments on PC Invasion: