We definitely loved fooling around in ancient China with Total War: Three Kingdoms, from the awesome battles to the iconic heroes and villains leaving lasting impressions on us. Following up on the launch, Creative Assembly has supported the strategy title with more content. Both the Eight Princes and Mandate of Heaven DLC gave us something different but not necessarily always better. Sticking to the Three Kingdoms era, Creative Assembly and Sega are hoping to lure more back into the conflict with A World Betrayed.
The latest DLC for Total War: Three Kingdoms will add two new factions for a brand new standalone campaign. Sun Ce and Lü Bu take center stage, as the former struggles to lead his family and faction after the death of his father, Sun Jian, while the latter is one who has killed his foster father, Dong Zhuo.
Together with the two new factions, there are also eleven other factions in Total War: Three Kingdoms – A World Betrayed. Each will have their own starting positions, events, and even missions. You cannot have new factions without new units, and those will also be accompanied by new characters. Wage war with the new Flying Riders, Tiger Guard, or Handmaid Guard in your retinue, and lead them with the likes of Chen Gong, Gao Shun, Cheng Pu, the famed Qiao sisters, and more.
According to Creative Assembly, this DLC allows them to "tell the story of a world in turmoil as new warlords take over from their mentors and look to consolidate their power in the aftermath of the Three Kingdoms conflict." They can "add more factions to the South and flesh out the map." The developer believes this will satisfy player demand for DLC located in this time period.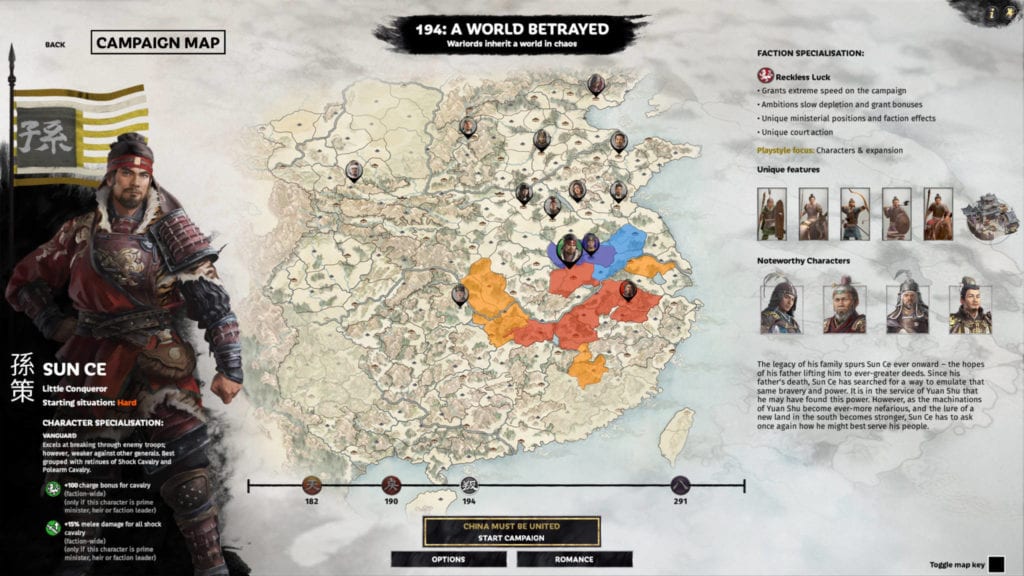 Free-LC
Coming alongside this paid DLC, all owners of the base game will also be receiving a free content update (FLC). That FLC is none other than Yan Baihu, a bandit leader who formed a coalition with other warlords in the south to curb Sun Ce's conquests. Yan Baihu's faction mechanics actually focus on coalitions and the Shanyue raiders. Alongside this is an update that would rework some existing mechanics for other bandit leaders such as Zheng Jiang and Zhang Yan.
Eager generals need not wait long, for A World Betrayed will be launching on March 19. There's a 10% discount available now if you preorder on Steam.