There can be no mistaking the colorful levels or the many adorable costumed jellybeans flailing about. Mediatonic's Fall Guys: Ultimate Knockout has now officially launched its second season. Starting today, players can look forward to enjoying the ancient times as the game get coated in medieval paint. Fall Guys season 2 will feature plenty of jumping knights, falling paladins, and all the aggressive Vikings you can stomach.
There will be four new Medieval rounds for players to master in Fall Guys season 2 for now. More levels will be joining the rotation as we progress through the season. They include:
Hoopsie Legends – Jumping through hoops to earn points, the familiar setup returns with a different vibe about things.

Knight Fever – Teetering platforms, swinging axes, and plenty of pointy surfaces, this will be the game's most challenging gauntlet yet.

Egg Siege – An evolution of Egg Scramble, things are about to get even more chaotic as war is declared.

Wall Guys – Work together first, and engage in betrayal later. It takes some strategizing in order to climb these walls.
Bells and whistles
Of course, it is not just new levels coming to Fall Guys season 2. Mediatonic and Devolver Digital are also adding more content to the mix for players to chase. A new and full Season Pass will be included. This means we have even more crazy costumes, emotes, and celebration to aim for. The store will also see some changes as well. Fall Guys season 2 will have a fresh store schedule for the entire duration of the season.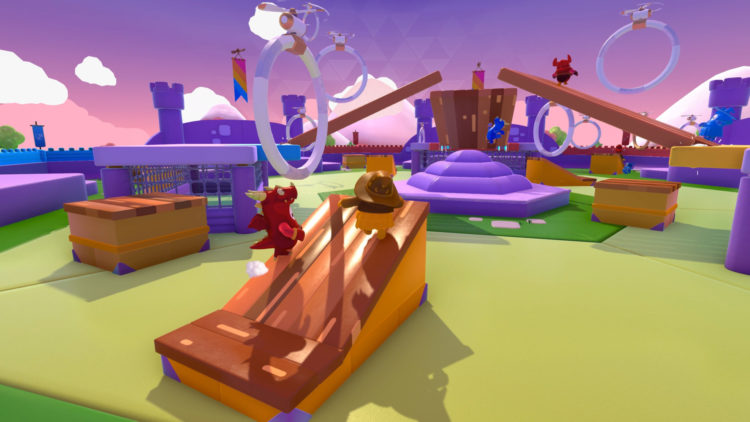 There will also be a suite of new features, with the Show Selector being the biggest highlight. The Show Selector will curate a selected roster of shows, including certain extra special limited-time events. Every show will have a themed playlist of rounds catered for different playstyles. Examples include Gauntlet and Survival Showdowns.
Fall Guys season 2 will also ensure your favorite rounds from before are not entirely gone. The developers have given existing rounds a much needed refresh in anticipation of more jellybean madness.