After weeks of rumors, AMD officially announced the Radeon RX 6600 XT at Chinajoy. The company markets it as a premium, high-refresh 1080p graphics card capable of running all of today's demanding titles. The graphics card will launch on August 11 with an MSRP of $380 USD and be available in AIB partner models.
AMD claims 15% better performance than the competition, which is presumably in reference to the RTX 3060. This is derived from its base hardware specs and the RDNA 2 architecture it is based upon. AMD also now offers its FidelityFX Super Resolution to further boost performance in titles that support the feature.
AMD Radeon RX 6600 XT specs
Architecture
RDNA 2
GPU
Navi 23
GPU Cores
2,048
Ray Accelerators
32
CUs
32
Infinity Cache
32 MB
Clock Speed
2,359 MHz
Memory
8 GB GDDR6
Memory speed
16 Gbps
Memory Bus
192-bit
Bandwidth
256 GBps
Interface
PCIe 4.0 x8
Outputs

x2 DisplayPort 1.4a
x2 HDMI 2.1

TBP
160W
A quick look at these specs shows that this graphics card offers a marked improvement over the previous generation equivalent, including an additional 2 GB of VRAM. This makes the AMD Radeon RX 6600 XT a great option for those who to play in 1080p with generally good framerates. However, even at the MSRP of $380 USD, this graphics card is notably more expensive than the 5600 XT which started at $310 USD.
The current state of the market is largely to blame for this price hike. AMD notes that memory prices are nearly double of what they previously were and then there's the obvious point that all other existing graphics card models are sold out, at least at MSRP prices. $380 USD is expensive for a lower midrange graphics card already, and AIB versions of other models have all been more expensive than MSRP thus far. With the expectation that all available stock will sell out on launch day, you may find this graphics card to be quite expensive until availability markedly improves.
Like always, you can expect various models for the AMD Radeon RX 6600 XT from various AIB manufacturers. These include ASRock, ASUS, Gigabyte, MSI, Sapphire, XFX, PowerColor, Biostar, and Yeston.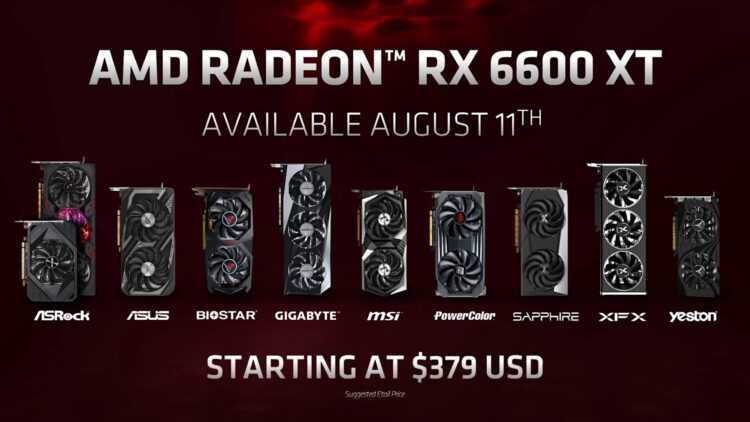 Performance expectations
AMD also provided some performance benchmarks in various popular games. As you can see, the AMD Radeon RX 6600 XT should be more than capable of a satisfactory gaming experience at 120+ fps in multiple titles, aside from a few outliers like Cyberpunk 2077. There are a few things to take note of about these benchmarks, however. AMD likes to cherry-pick performance numbers just like Nvidia, so your performance may vary. Some of these benchmarks include boosts from Smart Access Memory (Resizable BAR). Resident Evil Village likely has FidelityFX Super Resolution running at some level as well.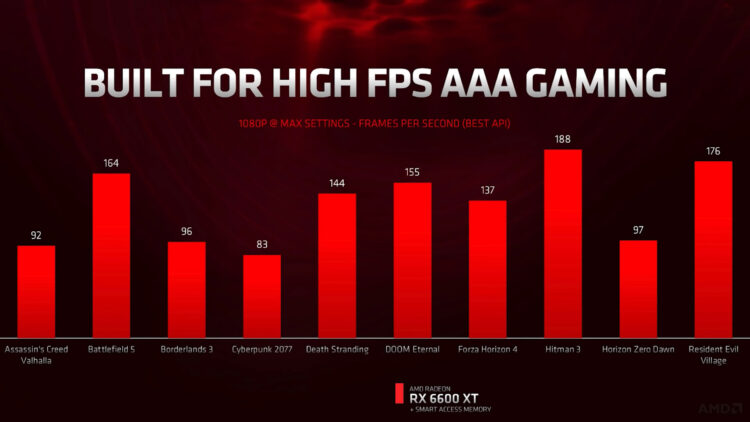 If you want to try and get your hands on one of these graphics cards, your best bet is to camp out on your favorite e-tail site or visit a physical retailer as early as possible on August 11. AMD has not specified how many units will be available at launch, but you can probably take a guess at what's about to go down. Check back with PC Invasion on launch day in the off chance we find availability for anything. We'll be sure to let you know.