SCS Software has officially released a brand-new update for both American Truck Simulator and Euro Truck Simulator 2. This update brings both games up to version 1.32. The functionality of the new update has been in open beta for the last several weeks, so the full release has been highly-anticipated within the community. What does it include? Trailer ownership is the biggest new addition, as many fans have requested this feature for several years.
As the name suggests, the trailer ownership feature will allow you to buy and use your own trailer for deliveries. There are various types of trailers to choose from, even including stuff like B-double type trailers, which are ETS2 only, insulated trailers, and refrigerated trailers. You can customize all of these as you see fit. So, now you can finally have both a matching truck and trailer to go along with your custom company.
SCS has mentioned that this update has also brought about the removal and redesign of previously existing trailers. So, you should expect some changes when you first boot up the game after the update. In fact, at bootup, it may catch you off guard with some of its new the UI changes. So, you will want to get used to the new layout of the Main Menu.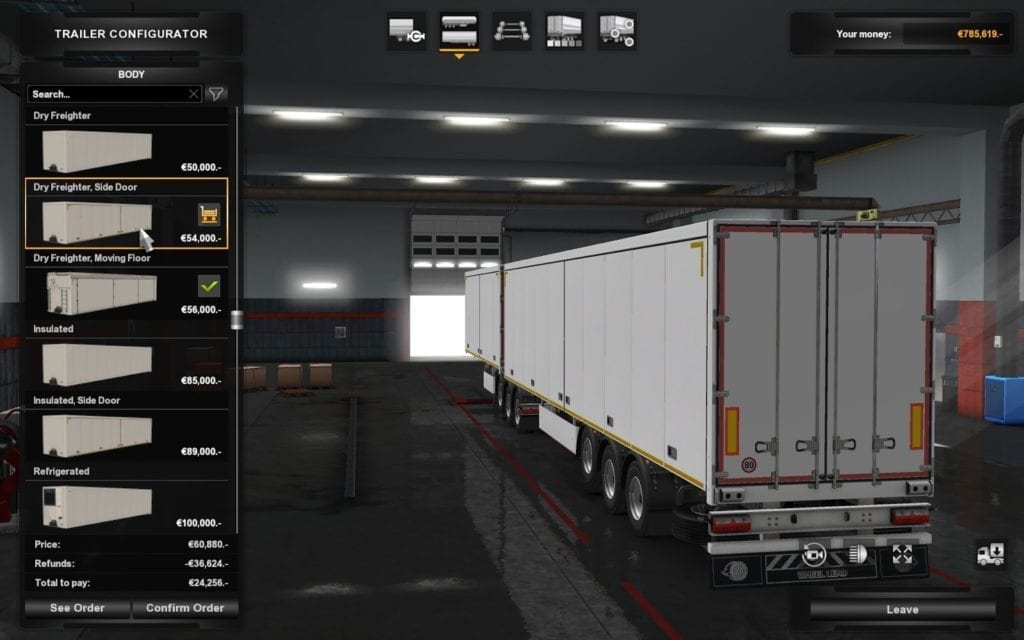 Now, for the game-specific changes.
Talking about Euro Truck Simulator 2 exclusively, other changes included the addition of the Scania 2016 to the lineup of AI traffic vehicles. Germany has also been revamped a little. The developers announced earlier this year that the map would be getting an overhaul, and now the main game has received a part of the redesign. Another region change has to deal with France. While the terrain hasn't changed, the speed limit has decreased to 80 KPH along some roads. The game's lighting system has also seen some improvements, so it now syncs with American Truck Simulator.
Euro Truck Simulator 2 has also received a new DLC pack: the Krone Trailer Pack. This includes officially-licensed models from Fahrzeugwerk Bernard KRONE GmbH & Co. It's available now for $3.99. Check out the new trailer:
American Truck Simulator also got a few changes of its own. The new truck trailers may get you excited, but don't get too crazy with super long ones (53 ft) when having to drive in California. That state, unfortunately, does not allow them. The game has added some new roads in Arizona (US-95, US-191, Clifton City), Nevada (I-580), and New Mexico (US-550). There are also additional changes to various parts of the game world.
A pretty extensive update!