Anno 1800's Sunken Treasures DLC has just released. I last checked out Blue Byte's city-building/trade management sim last April when I reviewed it. This time around, the Sunken Treasures DLC takes you to a brand new region where you're diving deep for salvage, all while learning more about Anno 1800's royal majesty. There is, however, a major challenge which you might face early on. That's the "Forgotten Heroes" quest where you need to find the resting place of the HMS Ajax's crew.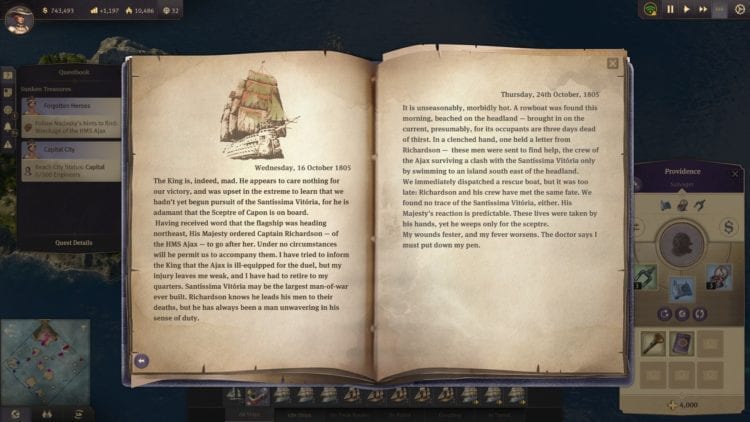 Anno 1800: Sunken Treasures – The sunken Ajax
I won't spoil too much about the narrative in the Sunken Treasures DLC and how it relates to your Anno 1800 campaign. Sufficed to say, you'll find yourself in a new region and you'll be given a handful of tasks. Many of these have to do with diving at predetermined spots to find loot. In a few cases, you'll also be asked to read the clues from the journal to find the correct spots on the map just so you can progress.
Later on, you'll be given a quest called "Forgotten Heroes." You can see the journal's entry above and you can try your best to look for it. There are no markers that'd pop up and your vessel's echolocation device/ping won't reveal it.
The clues point to a colossal enemy vessel heading northeast. However, its pursuers from the HMS Ajax were completely outgunned. The survivors from the HMS Ajax reached an island to the southeast of where the naval battle had taken place. Its unfortunate crew had no freshwater, and everyone perished while waiting for rescue. You're asked to find their final resting place.
It's actually this place (seen below). You can clearly see a makeshift camp along with boats that are aground. There's also no fresh water on the island, and it's still at the northeast section of the map.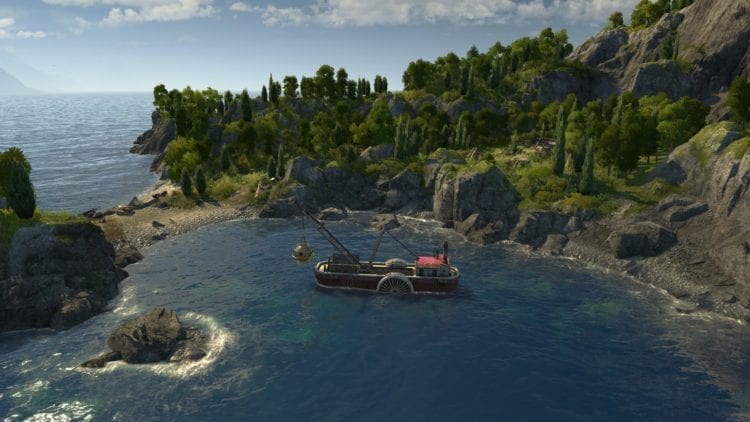 The problem? If you're searching for that island and you parked your vessel right on that spot — nothing happens. That's because, for some odd reason, the "Forgotten Heroes" quest in Anno 1800: Sunken Treasures has such a small proximity detection.
The correct spot is actually at the opposite side of that cove! It's over here:
You can click on the image for a larger view of the map. In fact, the reason why you're seeing my gold trickle down is because that's after a few hours of not bothering with anything else in Anno 1800: Sunken Treasures — except trying to find the damned crew of the Ajax and that island.
There you have it. Even if you were following the clues, and even if you're very meticulous in your search, it wouldn't really matter if you're not at the exact spot.