The battle royale that is Respawn Entertainment's Apex Legends is not slowing down any time soon. With crossplay soon to be an upcoming feature when the game finally arrives on both Steam and the Nintendo Switch, the fanbase will only get bigger for one of 2019's biggest hits. Season 5 is currently underway, and as fans prepare themselves for Season 6, the developers are doing the same for the game's release on Valve's Steam platform, with adorable Apex Legendscharms.
Perfect companions
To celebrate the release, Respawn is including a series of exclusive charms that will make their way into Apex Legends. These will be familiar to all who are fans of Valve. Both Portal and Half-Life get some love through the cosmetics, with Respawn providing fans with an early look. The charms include Octane being zombified by a headcrab, GLaaDOS reimagined as a potato, and Wattson being all adorable with the Companion Cube from Portal.
"For something this momentous, we couldn't give you something half-baked—that's why we partnered with Valve to design these Half-Life and Portal inspired gun charms," the developers shared.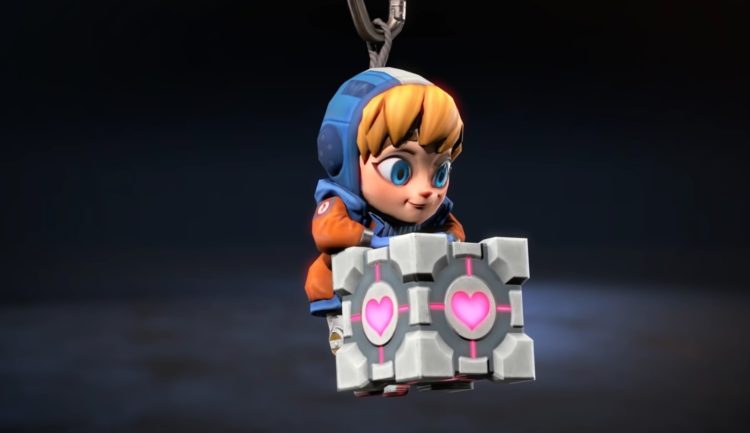 You can check out the official announcement here, which have some choice descriptions for the charms as well.
These Apex Legends charms will be available exclusively through Steam. Simply log in during a certain period in order to obtain them for yourself. More details will be coming closer to release, although we still have no idea when that will be. However, having shown off these adorable trinkets, we cannot imagine it will be too far off.
Apex Legends fans have been eagerly awaiting Season 6, especially if it is focusing on Bangalore. According to writer Tom Casiello, her time to shine is not too far off either. While others have been getting their lore explored and awesome cinematic trailer, the smoke launching Bangalore has yet to feature heavily. That could change as Season 6 descends upon us in the near future.