The theaters of war are expanding, as Bohemia Interactive has revealed a new DLC coming in the second quarter of the year for Arma 3. The gigantic military sandbox that is Arma 3 will offer players more DLC content with SOG Prairie Fire and focus on the Vietnam War. With its setting, the game will allow players to experience the brutal intensity of the war on a scale never seen before.
The DLC is being developed with the help of both US veterans and Vietnamese advisors, which will make things even more authentic. By immersing players deep within enemy territory, it will be a markedly different experience.
The new terrain of Cam Lao Nam is the headliner in this Arma 3 DLC. The play area will be 300 square kilometers in size, designed specifically to let players run missions through all the different phases and locations of the war. Bohemia Interactive is pulling out all the stops here.
You can launch missions from six Forward Operating Bases, or survive an uprising in the streets of Saigon. For the more stealthy players, you can carry out recon operations in Laos, or travel by boat through the winding swamps of the Mekong Delta. All in all, this is a sandbox brimming with possibilities.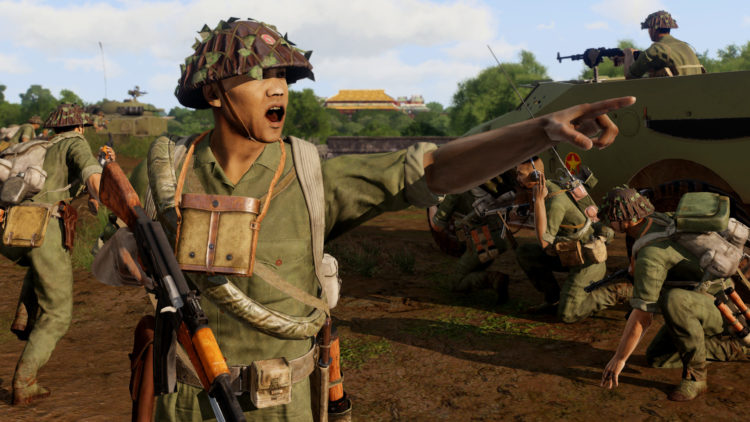 Choose a side
To bring it all together, the Arma 3 DLC will also feature four new factions. SOG Prairie Fire will allow players to go into battle as the US and South Vietnamese armies, the Military Assistance Command, Vietnam – Studies and Observations Group (MACV-SOG), the US Special Forces, or the guerilla Viet Cong. Each faction will feature its own weapons, uniforms, and gear.
In total, players can expect 55 unique weapons with detailed animations, realistic sounds, melee features, and even weapon accessories. To break it down further, you are looking at 41 detailed uniforms 30 vests, 28 backpacks, 15 accessories, and 20 headgear items. Each of these will come with a number of variations as well.
Of course, the war will involve all manner of vehicles. The DLC will bring a total of 54 new vehicles and static weapons to the table in Arma 3. Factions can rely on helicopters, gunboats, tanks, cars, trucks, planes, and even bicycles to get where they need to go. Defenders will be able to mow down their enemies with the help of static weapons as well. Expect to wield light and heavy machine guns, mortars, howitzers, and anti-tank missile launchers.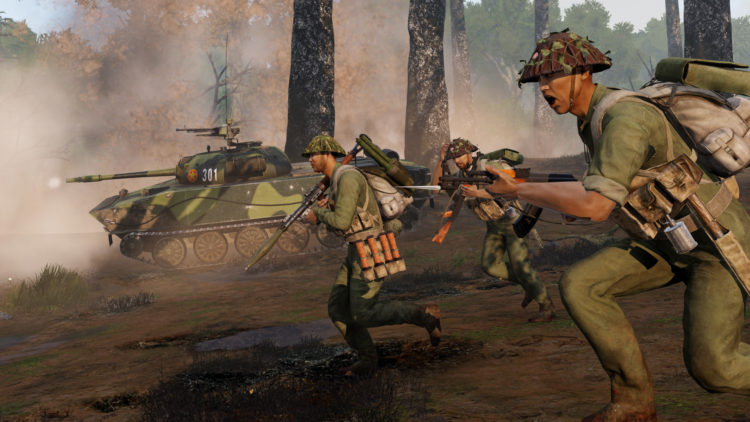 If you prefer to work together, there will also be a multiplayer co-op campaign. Up to 14 players can join in as the elite MACV-SOG reconnaissance team "Columbia" and try to stop the flow of materials down the Ho Chi Minh trail. Operate behind enemy lines and score a momentous victory for your side.
The entire campaign consists of six highly replayable missions with dynamic difficulties. You can even drop in or out conveniently.
Content overload
SOG Prairie Fire will add nine new multiplayer scenarios for the official game modes of Warlords, End Game, Zeus, and Escape. For players looking to enjoy the fun on their own, there will be two new single-player Showcase scenarios. Players can get acquainted with the weapons, vehicles, and equipment during that time. In addition, a fully narrated single-player Showcase scenario for both PAVN and MACV will introduce you to the world of jungle combat and historic warfare.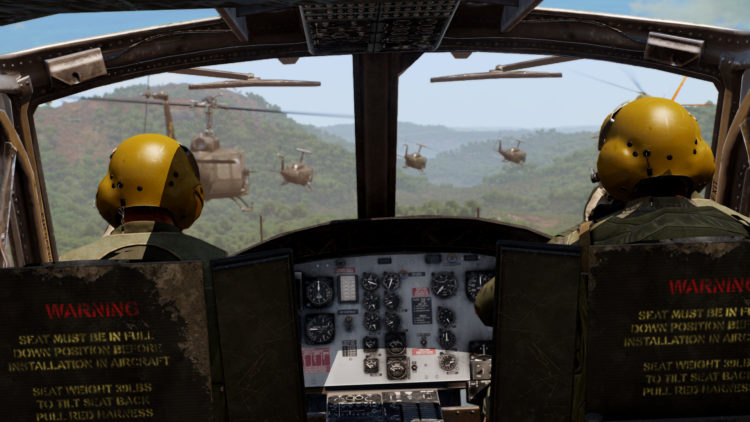 This is a huge DLC for Arma 3, and comes thanks to Savage Game Design, a small studio from the UK. Having worked with other third-party developers under the Creator DLC program, this represents the next step for aspiring creators to get their work out there.
A small, closed beta test for the DLC will happen in the next two weeks.