Assassin's Creed Odyssey seems to be the game that keeps on giving. Regular content drops, great episodic DLC packs, and sweet new gear keep bringing many players (myself included) back for more. Later this month, the game will receive a few new updates, bringing a handful of free content to Misthios all over Greece.
Even Assassins have bad days
The next episode of the game's Lost Tales of Greece will release on May 14. One Really, Really Bad Day serves as the ninth installment in a series of self-contained quests that have taken Kassandra/Alexios all over the Grecian world to partake in new side-quests. The synopsis of the episode reveals that the player will discover an imposter on Lokris who has been posing as Kassandra or Alexios. Players must put an end to this person's plan to clear their good name.
Each of these episodes is free to all Assassin's Creed Odyssey owners. The only stipulation is that the player must have completed Chapter 5 in the main campaign.
Gearing up for the kill
Starting May 21, players can also purchase the Herakles Character Pack at the in-game store or by visiting Orikos of the Olympians. This pack comes with a new gear set, a stylish axe, and a bull mount that looks to be straight out of Hades. These can be seen in the image at the top of this page.
Also coming on May 21st is the Hydra Navel Pack. This lets you adorn your ship in the stylings of the Lernaean Hydra. As shown below, this includes a new figurehead, crew theme, and ship design. You can also attain a new ship captain, inspired by the hero Herakles, from the store or Orikos.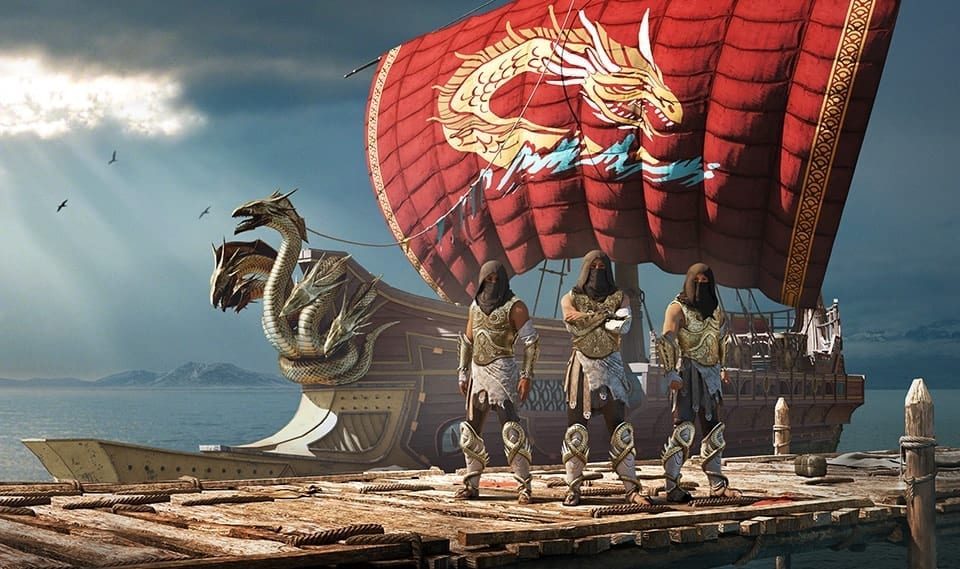 Finally, the update also includes a few quality of life improvements. These will arrive when Assassin Creed Odyssey's Title Update 10 deploys in late May. A few of these fixes will include Legendary Lieutenants scaling in level with the player (and increasing perks accordingly), weekly contracts being simpler to complete, and Anigmata Ostrakas detailing which region you can find their treasure (finally). You can read the rest of the update notes at Assassin's Creed's official news hub.