The launch of Assassin's Creed Valhalla is generally regarded as a successful effort by Ubisoft, but the development team has gone on to provide a heaping amount of updates since then. We're at just about the half year marker since launch now, and also on the eve of its first expansion, the Wrath of the Druids. As many fans are aware of though, the expansion has suffered a small delay. As such, Ubisoft is trying to get at least one more quick update in for the base game before it crosses into new territory. Title update 1.2.1 launched today for Assassin's Creed Valhalla, and it offers basic improvements across the board.
As a heads up, you'll want to set a little space and time aside to download title update 1.2.1. It's 14 GB in size. That isn't massive, but it's still enough to disrupt the length of your next play session at the very least. Here's what you'll get for your spent bandwidth though.
There's the typically long list of bug fixes for things like quests, River Raids, Jomsvikings, and raids. In addition to that, Ubisoft added basic support for the Wrath of the Druids expansion, which is likely comprised of basic assets to help the full release not be so big. There are also some quality of life improvements, new skills and abilities, technical fixes, and most importantly, more fish.
Enjoy some extra stuff in Viking land
You'll be able to unlock three new skills that include Cold Rage, Eye of the North, and Intense Rage. Eye of the North is useful for preventing flinching while aiming your bow, while the rage skills let you ignore hit interruptions while attacking. Ubisoft also did some balancing and ensures that perks like Fearless Leaper will make it easier to jump from greater heights now. That's certainly a welcome one since this franchise is known for its acrobatics and parkour stunts.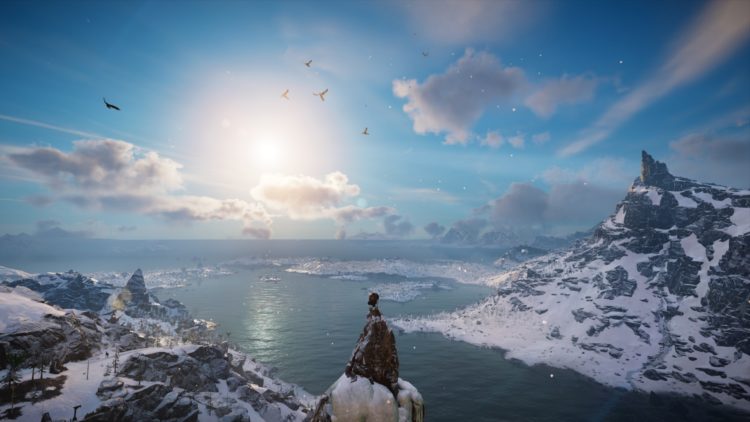 Speaking of the franchise in general, you'll also be happy to learn that Bayek's and Altair's outfit appearances can now be applied to other armors when using Transmog. Seeing as they are icons of previous games, this is a welcome change. You'll now be able to look the way you want and have the stats you want as well. Yet, while that sweet armor is fun to see in cinematic angles, you may not wish to see it countless times over. If that's the case, you can toggle the cinematic camera off for your finishers now.
Now let's talk system performance. A previous issue with V-sync remaining on while in a locked state in Windowed Mode has been resolved. Ubisoft is also confident that the game will feature better overall performance too, so enjoy the extra frames.
Go fish
From Sturgens to Mackerel, you'll also find some more floppers in your local pond. Get out reel 'em in now. You can check Ubisoft's website to read the full patch notes for Assassin's Creed Valhalla update 1.2.1.