There is no shortage of game franchises doing the battle royale thing these days. From games like Ring of Elysium, Fortnite, and the latest Blackout mode in Call of Duty: Black Ops IV — it's everywhere. Well, a new post from EA titled "Battlefield V: Launch is just the beginning" details the roadmap for what's to follow post-launch. And one of those modes is, surprise, focused on including battle royale into the mix. However, it's a fair way away from the game's launch date.
Incoming…
EA had previously revealed the Battlefield V battle royale mode back in September. The trailer at the time showcased the 64-player gametype in a sizzle reel of sorts. It offered bits of details throughout the trailer's narration. Well, the aforementioned post shells out more details regarding the timeline of these modes — and furthermore, what you can expect while playing them.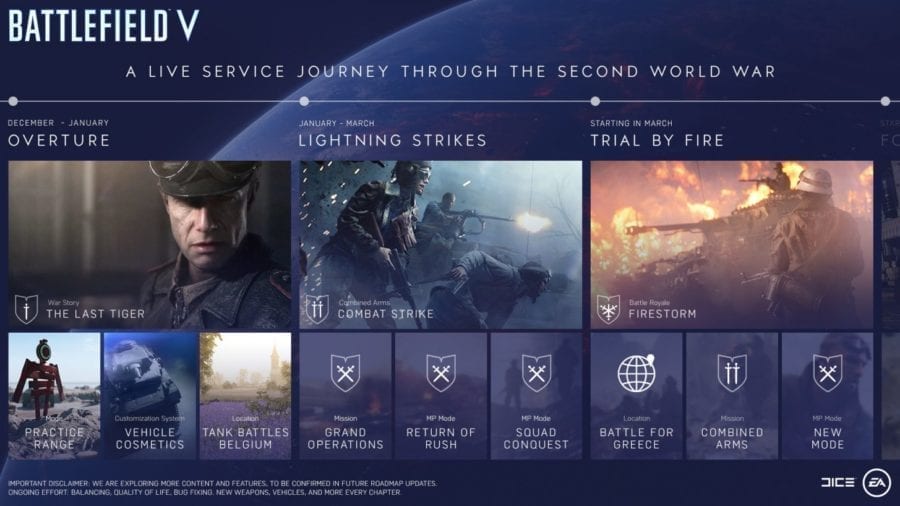 Chapter 1: Overture will launch in "early December" and run through January. The multiplayer here will focus on the Panzerstorm map, taking place in Belgium. Tanks will be a focus here, also bleeding into one of the War Stories campaigns: The Last Tiger. There, "a lone Tiger Tank crew begins to question the ideology that got them to this point". A trailer was also previously released, highlighting those story moments.
The second chapter will run January through March. This one, known as Chapter 2: Lightning Strikes, seems to focus more on the small-team aspect. Combined Arms places you in a four-player squad as you carry out Battlefield V's Combat Strike missions. This mode includes a number of different maps and challenges. Squad Quest and a "revamped" Rush will also be a part of the second chapter of installments.
Finally, Chapter 3: Trial By Fire, will kick things off in March. The Firestorm mode promises battle royale, with tanks and other vehicles also being a part of the mayhem. The events will take place in Greece along the Cretan coast.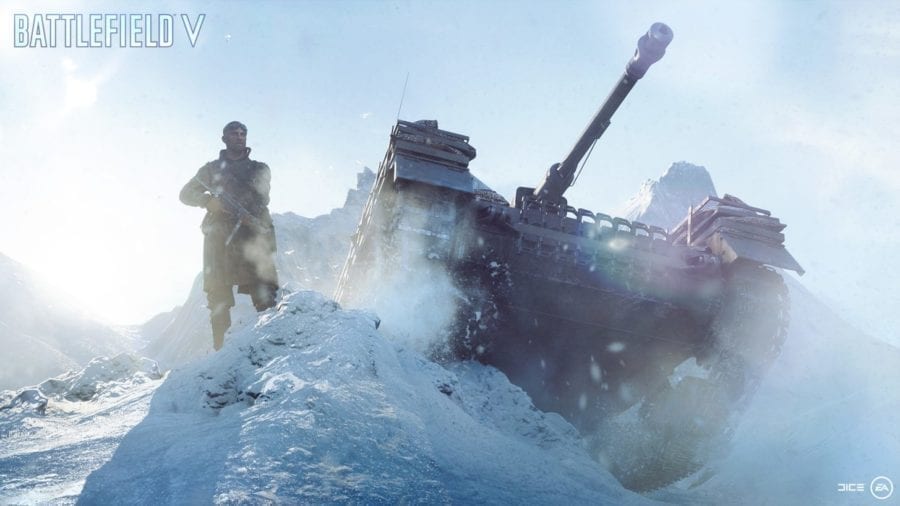 It Looks Like War Does Change
If you're ever looking to dissect a problem, there's an old saying that "the numbers don't lie". There's a lot you can learn about something by the numbers: stats, inventory, or anything that can be measured. Some of those numbers include dwindling preorders for the upcoming shooter. There were also previous concerns regarding the release of Battlefield V when it looked to move its release date outside the grasp of Call of Duty: Black Ops IV.
This might have been a good thing considering the stellar sales numbers Treyarch and Activision have managed to produce. Nevertheless, all these details point to a market that is unsure of how Battlefield V will perform in the end. It likely doesn't help that the battle royale mode won't launch until five months after the game's November 20 release. We can only wait to see how that decision affects sales.
Are you excited for Battlefield V? If you're currently playing Call of Duty: Black Ops IV, will you change gears once Battlefield V releases? Why or why not? Let us know in the comments below!