We've known since last year that Rare's Battletoads were set for a major comeback. The new game was merely teased at the time. Today, during Microsoft's E3 2019 press conference, we finally got a brief glimpse of the amphibians with attitude in action.
For those of you worried, yes, the turbo tunnel is coming back. Because of course it is. However, it likely won't be the roadblock it was back in the 1990s. The turbo bike level in the new Battletoads moves the camera behind the three toads, and looks to give you a lot more leeway on how to dodge oncoming death.
The gameplay trailer showed a lot more of what to expect. Combat runs similar to that from the classic games. It's a 2D action game, much like its predecessors. Combat using fists and feet that transform into axes, hammers, and a…uh…fish is also coming back. The game itself looks like some fun, cartoon violence — emphasis on the cartoon.
Cartoon violence
Graphically, Battletoads is certainly taking some artistic liberties from what we expected. The animation and art style is reminiscent of modern Cartoon Network shows like Teen Titans Go, which may not bring much comfort to some Battletoads veterans. But do you know what is comforting for us aging Battletoads fans? That music. I am, admittedly, on the fence regarding the new visuals, but so long as that heart-thumping soundtrack remains true, you know I'll be there.
However, everything else about the game remains very similar. The three toads, Rash, Pimple, and Zitz, are back. Battletoads will include co-op for up to three players. However, the trailer only mentions couch co-op. It doesn't seem like the game will have the option to play with others online. At least, not yet.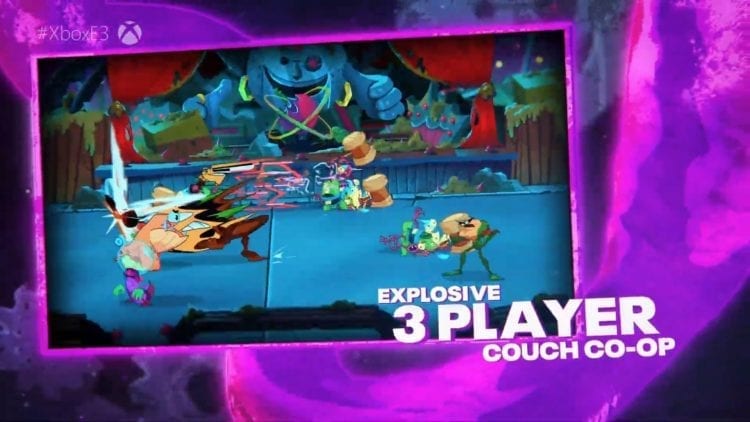 Battletoads will release later this year for Xbox One, but will be available to play via Xbox Game Pass — which means it will be available for PC players as well.