Indie developer Spiderling Studios announced via Steam that Besiege will be leaving Steam Early Access next week. The physics-based siege game was first released to the public back in January 2015. After five years of development, Besiege's version 1.0 will officially launch on February 18.
The full release isn't just for show either. Version 1.0 will add plenty of new content for both new and dedicated players to try out.
Besiege v1.0
So what exactly makes this update Besiege's official release? The decision to move onto v1.0 and out of Early Access was triggered by Spiderling Studios finishing off their single-player campaign. The addition of Krolmar, Besiege's final island, also brings with it new enemies, fortresses, and "secret magic" to discover. Krolmar has been designed to be the "challenging" conclusion to Besiege's campaign.
Version 1.0 will also introduce various new blocks for players to use when creating their machines. The focus of these is to make automated mechanisms possible. Presumably, they could add a level of complexity to machine design that lets the brightest players truly shine. And even if you don't feel up to the challenge, there will be plenty of cool content to try out on the Workshop.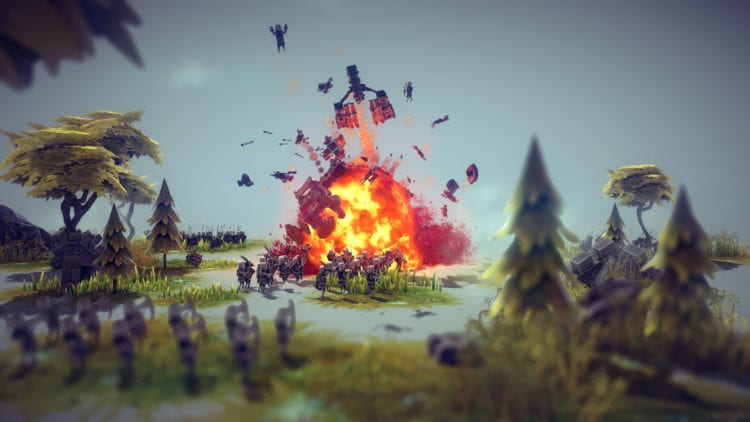 In total, Besiege's new update will add four blocks. The Altimeter confirms an input based on an altitude that you define. Similarly, the Sensor block triggers a pre-determined input when it detects something moving in front of it. Otherwise, you can now add countdowns to your machines with the Timer block and have inputs held for a pre-set amount of time. Finally, the Logic Gate will output the exact keypresses you tell it to when certain conditions are met.
If Besiege sounds like the kind of technical game you'd like to try, you should pick it up sooner rather than later. Once v1.0 drops next week the price will go up, in line with their "original early access plan." Spiderling Studios doesn't provide specific details on how much it will increase, but it's not too big a deal given this practice is common for a lot of early access titles.