The Fallout franchise is much bigger than the game itself. You can go to any number of game conventions or gaming-themed events and find at least a dozen people there dressed as characters from the Fallout universe. You don't even have to have played a single title to recognize the Nuka Cola symbol or understand its significance. But what if you're hungry for some delicious BlamCo Mac & Cheese? Well, if you've ever wanted to create vault-themed meals allowable for human consumption, it might be time to stockpile the Fallout: The Vault Dweller's Official Cookbook. It's the official Fallout cookbook by developer Bethesda.
With the book, you can whip up a number of different recipes straight from the depths of nuclear fallout. The cookbook outlines a variety of main courses, side dishes, soups, and stews. Explore shareables like the aforementioned BlamCo Mac & Cheese, as well as Piper's Special Soda Bread and InstaMash. You can always wash it down with a hefty glassful of Rot Gut. If it's a sweet tooth you're looking to satisfy, a good old-fashioned Nuka Cola-Float always helps the rads go down.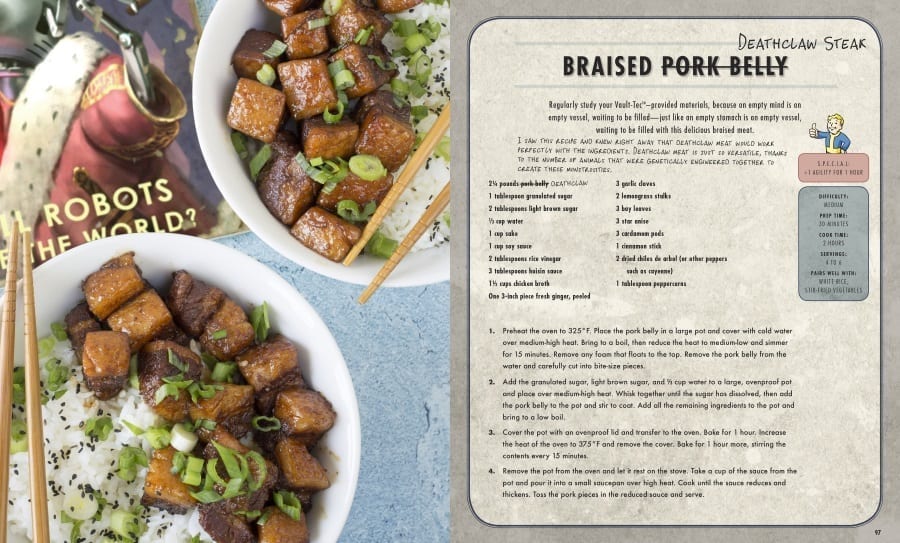 Hot off the cooking station
Honestly, the Fallout-themed cookbook has a impressively robust selection of meals to prep. There are more than 80 different items for you to explore on your journey through the "Tasteland." Author Victoria Rosenthal has created other books surrounding the topic of food. However, it seems that this is her first endeavor doing something video game-themed, as her prior book focused more on healthier food choices.
This isn't the first time a company like Bethesda has backed a how-to food guide for its fans. We've seen others like The Elder Scrolls: The Official Cookbook, and there are fan-created sites that pay homage to foods inspired by gaming.
The hardcover version of Fallout: The Vault Dweller's Official Cookbook is currently available for pre-order on Amazon. The book doesn't release until October 23, 2018, but you can at least lick your lips in anticipation. Perfectly Preserved Pie, anyone?