The M16 has become an iconic weapon in Call of Duty. With the release of Black Ops Cold War, the M16 makes its eighth appearance in the franchise's popular multiplayer game mode. After Modern Warfare and its painful lack of an effective burst rifle, a good three burst weapon was needed here. Thankfully, Treyarch has not disappointed. The M16A1 featured in Call of Duty: Black Ops Cold War is a serious contender for best primary.
The loadout I recommend is built around the Gunfighter wildcard. This wildcard allows you to pick eight attachments on your primary rather than the standard five. This works very well on the M16 as you can cover up its shortcomings with the extra attachments. This isn't necessary on most guns, but is a game-changer when building heavier weapons like tactical rifles and LMGs.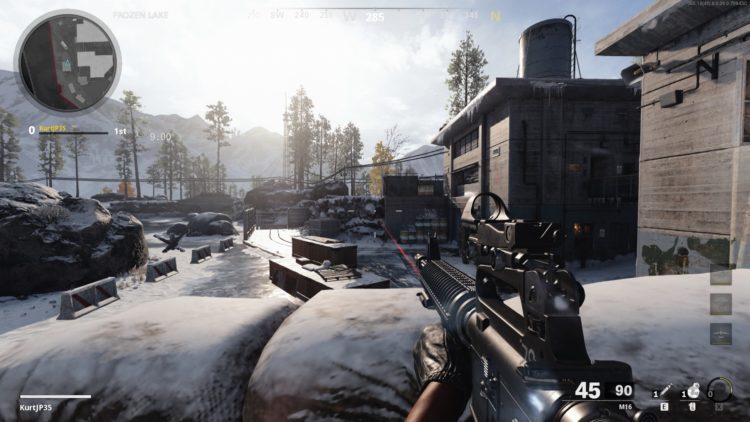 M16 Gunfighter build
Optic: Millstop Reflex
Muzzle: Infantry Compensator
Barrel: 20.5″ Task Force
Body: Steady Aim Laser
Underbarrel: Field Agent Foregrip
Magazine: 45 RND
Handle: Airborne Elastic Wrap
Stock: Buffer Tube
Wildcard: Gunfighter
Your choice of optic comes down to personal preference, but I'd recommend either the Millstop Reflex or Kobra Red Dot. These sights provide a clear line of sight whilst not providing too much magnification. Higher zoom sights don't tend to be optimal in Black Ops Cold War but you could probably get the Royal & Kross 4X to work in a slower-paced mode like Search and Destroy.
For the muzzle and barrel, you'll want to use the Infantry Compensator coupled with the 20.5″ Task Force barrel. The barrel does a fantastic job of increasing the amount of one burst kills you'll be able to get. Just keep in mind that it comes at the cost of recoil control. Picking the Infantry Compensator is a great way to counteract that downside. Equally, the Field Agent Foregrip is advised to help land full bursts of fire onto enemies at longer ranges.
Both the body and magazine attachment slots aren't overly important, so you should just pick the options with no downsides. The 45 Round Magazine provides a larger clip with no side effects while the Steady Aim Laser will slightly narrow your hip fire spray. Feel free to try different options out for these slots, as they aren't crucial for this gun build.
The most important attachment by far is the Airborne Elastic Wrap. Not only does it cut your aim down sights time down by over 100 ms, but it also eliminates any noticeable flinch and lets you shoot while going prone. Highly skilled players should look to integrate drop shots into their gameplay regularly to keep their movement unpredictable. Without either the Airborne Elastic Wrap or the Dropshot Wrap, you can't fire and drop shot at the same time.
For more Call of Duty: Black Ops Cold War tips and guides, be sure to check out our guides and features hub.