Call of Duty: Black Ops Cold War Season Four has a few new weapons, including the MG 82 light machine gun. You can unlock the gun for free at tier 15 of the Season Four battle pass.
The MG 82 is already a powerful weapon. The recoil is easy to control, meaning you do not even need to equip a muzzle. Therefore, this class focuses on the speed of the weapon, as well as improvements to the damage. If you still want to improve the accuracy of the weapon, there are attachments that allow you to do so.
Call of Duty: Black Ops Cold War MG 82 class
Barrel: 16.4" Task Force
Underbarrel: Infiltrator Grip
Magazine: Salvo 150 Round Fast Mag
Handle: Airborne Elastic Wrap
Stock: Raider Stock
To kick off your new MG 82 class, equip the 16.4" Task Force Barrel. This increases your damage, effective damage range, and bullet velocity. Next, the Infiltrator Grip improves the weapon in terms of speed. You will experience better movement speed, shooting move speed, and aim walking movement speed. This trait is particularly valuable for a light machine gun, as this weapon class is much slower. To further increase your speed, equip the Airborne Elastic Wrap to boost aim down sight time and flinch resistance. However, if you would prefer to make the MG 82 more accurate in Black Ops Cold War, choose the Field Agent Grip for better vertical and horizontal recoil control.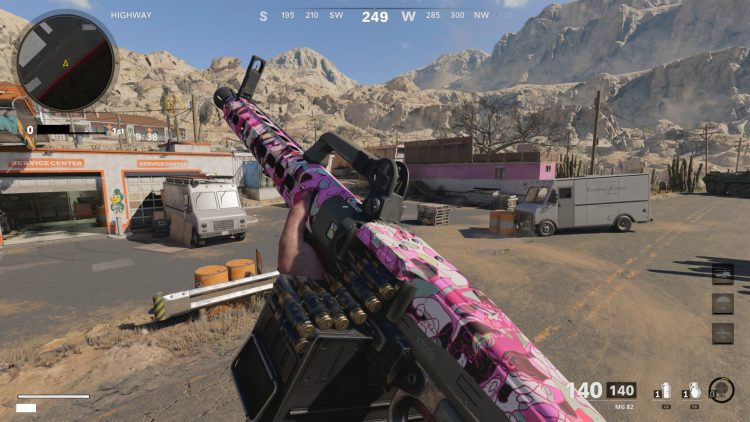 When it comes to choosing a magazine, the Salvo 150 Round Fast Mag is a strong option. It significantly increases ammo capacity and reload speed. Although it impacts your aim down sight time, this drawback is not too detrimental as you will only experience a 10% drop. To complete your class, use the Raider Stock for a better sprint to fire time and aim walking movement speed.
For more, make sure to visit our Call of Duty: Black Ops Cold War guides and features hub.