There's no doubt many of you Diablo fans out there are wondering what additions, if any, are coming to Diablo II: Resurrected. The full remaster of Blizzard's acclaimed action RPG is certainly getting the graphical overhaul long desired. Indeed, the game will include wide screen support and resolution options expected from modern games. But what else? Recently, IGN sat down with Blizzard developers to ask some of those questions. The interview brought some lovely details to light. Diablo II: Resurrected is getting some modern improvements, and, yes, you will be able to use your original saves.
The interview brought together two Blizzard developers working on the project. Matthew Cederquist, game producer and Andre Abrahamian, game designer, talked Diablo II and what's to come.
Naturally, it's the aforementioned original saves in Diablo II: Resurrected that likely caught your eye. While the two certainly went over a lot of fresh details, you probably want to know if you can bring your Hell Difficulty Necromancer into the modern age. The answer, is yes, certainly, and absolutely. When asked if original saves should be kept, Cederquist excitedly replied: "Yes! Yes, keep those!" You heard the man. If you're still holding onto your original saves for Diablo II, keep them safe, as you can use them in Resurrected.
"Back when we were working on [the remaster], we wondered if the old save files would work and we kind of shoved it in and it worked," exclaimed Cederquist in the interview. "And we were like, 'okay, that's the best feature ever'."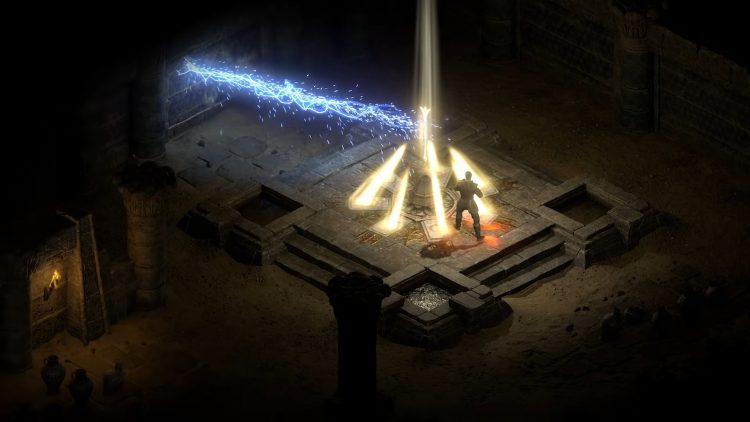 Diablo II: Resurrected — new look, more improvements
Earlier in the interview, the Blizzard developers talked about resolution. Diablo II, even with mods, had a maximum 800×600 resolution. While not a bad-looking game by any right, it certainly can't avoid looking incredibly dated on the larger, wide screen monitors of today. However, according to Cederquist, Diablo II: Resurrected will support 4320p resolution, which means you can play in 8K if your PC can handle it.
Abrahamian also chimed in on additional visual options. According to him, ultrawide screen support has been "discussed." However, he doesn't confirm whether or not it will become available. But you will be able to zoom in Diablo II: Resurrected. Abrahamian said the game will feature a zoom that allows you to "go a little bit closer than the classic experience if you want."
Diablo II: Resurrected is being developed for PC, but it's current release date is unknown. However, there will be multiple alpha tests you can sign up for throughout the year.