If you're into fast-paced action games — or want something inspired by the animated series Samurai Jack — Bloodroots has you covered. Today, the developers at Paper Cult announced that the stylish action game will make its debut on Epic Games Store starting February 28. It's currently priced at $17.99 and promised to deliver with hack-and-slash goodness.
Come hear the tale of Mr. Wolf
Meet Mr. Wolf. He's just your typical hunter minding his own business. Suddenly, he's wronged by his enemies, and that puts him on a bloody path of revenge. You'll guide him every step of the way as he cuts through his foes like they were tissue paper.
But what's neat here is that Mr. Wolf doesn't use typical weaponry. Instead, in Bloodroots, he'll interact with items in his environment to exact his revenge. These include everything from hatchets to ladders to carriages. If you're savvy enough, you can even use carrots to let loose on bloodshed. (And here we thought they'd do a body good.)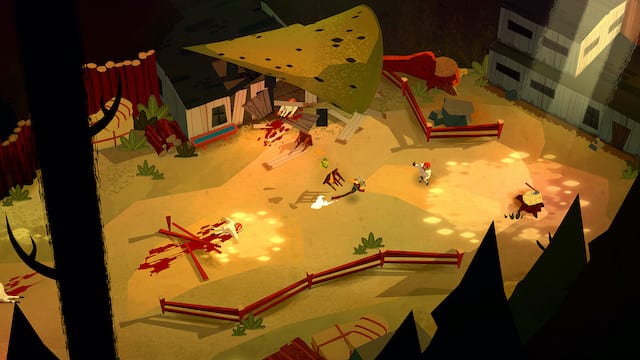 This will add greatly to the game's replay value, as you can considerably mix up the combat in a number of inventive ways. Combine that with the game's beautiful hand-drawn animation and bloodletting, and you have an indie hit that looks set to deliver.
With its blistering pace and odd setting, (They don't call it the Weird West for nothing, after all.) Bloodroots certainly looks ready to stand out. If you still need a better look, check out the release date announcement trailer below. In it, you get an idea of what kind of odds and adversaries Mr. Wolf is up against. But as you can see, there's more than enough that he can do about it.
If this is more than enough to suit your bloody tastes, preorder the game on Epic Games Store.