Borderlands 3 just keeps on trucking. Today, Gearbox revealed the long-running looter shooter's next DLC expansion, Bounty Of Blood: A Fistful Of Redemption. It also announced a new Takedown event, dubbed Takedown at the Guardian Breach. Both were unveiled today on The Borderlands Show.
Get up and take down
The new takedown will be a free addition added to Borderlands 3 on June 4. This is an endgame challenge, and it's meant to put a team of fully leveled Vault Hunters to the test. But rest assured, it will scale to the number of people in your party. Together, you and your team will investigate a Guardian signal on a planet called Minos Prime, only to come under attack by a group of rogue Guardians that have terraformed the planet.
New enemies, low-gravity platforming sections, and environmental puzzles await you on Minos Prime. You'll also come face to face against a miniboss and a final boss. Upon completion, you can expect a bevy of new items, including themed weapons, gear, and collectible cosmetics.
Meanwhile, Borderlands 3's next paid DLC campaign add-on will be the aforementioned Bounty of Blood, a western-themed expansion. On the desert planet Gehenna, you will meet a whole new cast of characters, as well as an unknown narrator. Your job is to hunt down the Devil Riders, a gang of bandits who have besieged the small town of Vestige. Players will also gain access to a new vehicle called the JetBeast hoverbike to help traverse the wide-open desert of Gehenna. You can equip your hoverbike with weapons, too, so expect some vehicular carnage.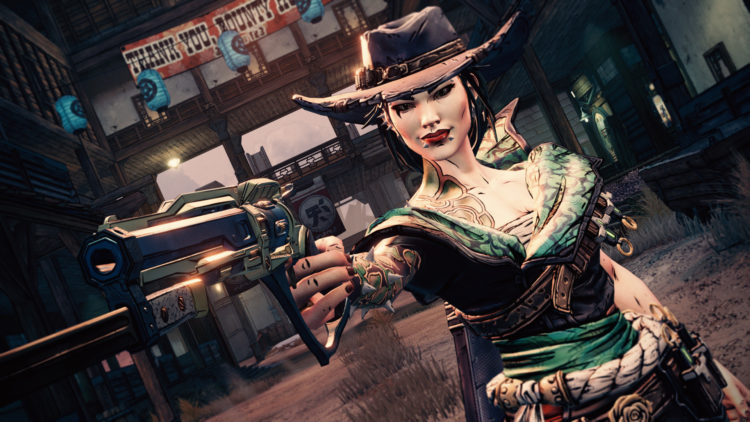 Saddle up, pardner
In addition to loads of new loot and weapons, including several Western-themed items, there will be four new interactive objects. For example, the Traitorweed can temporarily brainwash enemies and have them fight on your side. Meanwhile, the Breezebloom lets you reach extremely high areas to aid exploration.
Borderlands 3's Bounty of Blood DLC will release on June 25.