The Call of Duty Endowment has been persistent in raising money for veterans since it was founded in 2009, but this year has been more aggressive than ever before. Now, we're seeing some of the most popular content creators team up with active-duty military members and players of the U.S. Army Esports team for the first-ever CODE Bowl. The event will take place on December 13 starting at 10:00 a.m. PT.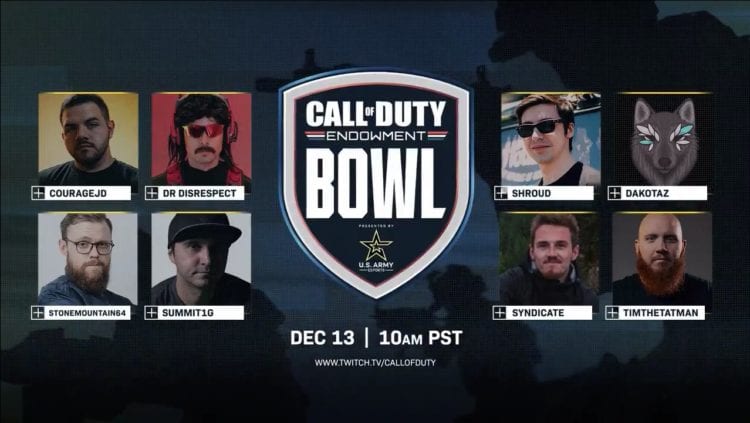 How does it work?
According to Activision, "the event will feature eight teams, each captained by a popular streamer playing Call of Duty: Modern Warfare along with members of the U.S. Army esports team. Each team will be competing to become the CODE Bowl Champions by earning the most points in-game. Each team will include a featured streamer and two active-duty service members from the U.S. Army Esports team."
The CODE Bowl is a score-dependent tournament, which means you won't see these teams go up against each other in a head-on duel. Instead, they will compete based on earning the most points in-game. Further details on the playlist or game type that will be used haven't been released.
Who's in it?
There are some heavy hitters in the CODE Bowl. Some are returning streamers from previous charity events, while others are a welcome addition to the cause. The streamers will be Jack "CouRageJD" Dunlop, Guy "Dr Disrespect" Beahm IV, Brett "Dakotaz" Hoffman, Michael "shroud" Grzesiek, David "StoneMountain64" Steinberg, Jaryd "summit1g" Lazar, Tom "Syndicate" Cassell, and Timothy "TimTheTatman" Betar.
The tournament will be viewable on each of the players' streams, as well as the official Call of Duty Twitch channel. Starting now and leading up to the day of the event, you can donate to the Call of Duty Endowment on any of these streamers' channels. The streamer who raises the most money will get a trophy and some all-important bragging rights. You can also donate here.
Stay tuned for more developments on Call of Duty: Modern Warfare.