Although Call of Duty: Warzone Season Five was delayed, fans can now hop in and try out the new content. As always, there are new weapons for you to master in Verdansk '84 and Rebirth Island. This season has introduced a new weapon to the assault rifle category. The weapon is named the EM2, and it already has some qualities that are valuable in Warzone.
You can unlock the EM2 for free once you have completed Tier 15 of the Season Five battle pass. Overall, the weapon has a slightly slower fire rate, meaning you can control your shots much easier. Also, the EM2 has a built-in low-zoom optic which you can keep or swap out in favor of a different attachment in this category. This class will predominantly focus on improving the damage and range of the EM2 assault rifle.
The best Call of Duty: Warzone EM2 class
Muzzle: Agency Suppressor
Barrel: 25.8" Task Force
Underbarrel: Field Agent Grip
Optic: Axial Arms 3x
Ammunition: 40 Round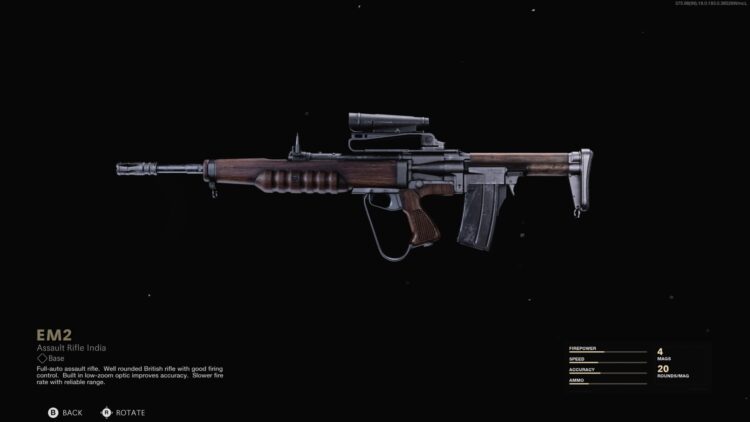 To begin your EM2 Warzone loadout, use the Agency Suppressor. This will provide sound suppression, keeping your shots hidden from the mini map. Moreover, you will experience improved vertical recoil control, bullet velocity, and effective damage range. Pairing this with the 25.8" Task Force barrel will further improve your vertical recoil control, bullet velocity, and effective damage range, with the addition of better horizontal recoil control. In addition, the Field Agent Grip will boost the accuracy of the EM2 by providing better vertical and horizontal recoil.
Next, the Axial Arms 3x is a strong optic to use. It will allow you to confidently take on gunfights at both long and medium ranges. In terms of your ammunition, you should equip the 40 Round magazine. Although this will not fully maximize your ammunition, it will not impact your aim down sight speed. The slower firing rate  of this gun also makes the smaller magazine less of an issue.
To make your EM2 loadout more versatile in Warzone, you should pair it with a weapon best suited to close-quarters combat. A submachine gun, shotgun, or a pistol are all viable options. For more, make sure to visit our Warzone guides and features hub.