In celebration of over 1 million sales, Gunfire Games have updated the roadmap for its Souls-like cooperative shooter, Remnant: From the Ashes. The developers have already released some free updates since the game launched on August 19 of this year. Expect the upcoming update to be the most challenging of all.
Remnant: From the Ashes is a third-person shooter that wears its influences on its sleeve. The desolate world, combat, and environmental storytelling are heavily inspired by Dark Souls. But Remnant's success shows that the game has managed to find its niche in the growing genre. Remnant offers a mix of melee and ranged combat, the ability to play in a 3-man squad, and different difficulty levels to keep up the challenge. You can also get a gun that shoots bees if the rest isn't enough for you.
I live. I die. I live again.
The first update on the roadmap will be the Hardcore Update, which releases tomorrow October 31. It adds— you guessed it— a hardcore mode. Remnant is already a difficult game, but now you have the option of having only one life. Hardcore players will have to play solo or with other hardcore players. There will be no random matchmaking, so let's hope you have some masochist friends. There's also added incentive for playing in hardcore mode: if you manage to defeat the difficult world bosses, then you will receive powerful items that become bound to your entire account (standard and hardcore, current and future). This system will give hardcore players an edge for their second outing after their inevitable deaths.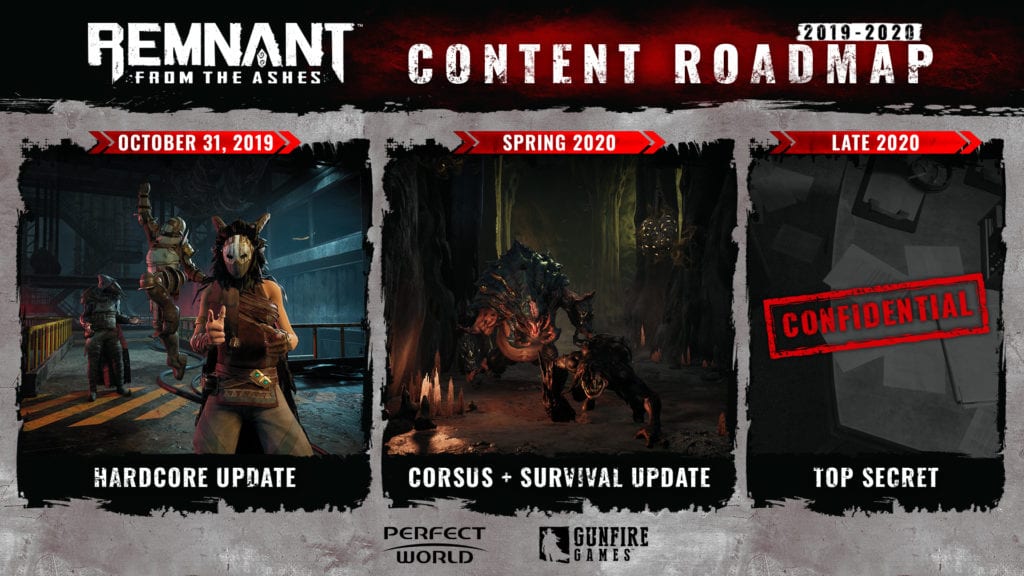 Other changes coming with the Hardcore Update include a comms wheel with pings and emotes, the ability to hide helmets, balance changes, and other quality of life improvements. Following the Hardcore Update is the Corsus and Survival Mode Update in spring 2020. No word on what the update is exactly, but survival mode might be a horde mode. Some of the bosses in Remnant are mini-horde challenges as it is, so that seems to make the most sense for the moment.
If you want to try out Remnant: From the Ashes, it is currently on sale on Steam for $27.99.