Buckle up and get ready to shift into first gear. Wreckfest, the chaotic racing game from Bugbear Entertainment, released a hefty fall update today. It's a free update coming on the heels of the latest Wreckfest DLC, Backwood Bangers. If you haven't played Wreckfest before, check out the trailer below for an idea of the discord you can sow from behind your steering wheel.
Lotsa improvements
The fall update will bring several new improvements to Wreckfest. Content-wise, two new tracks — Drytown Desert and Rockfield Roughspot — have been released. Plus, be sure to check out the new damage mode, Intense, which is described as "realistic" damage with attackers advantage included. It should make for some hectic showdowns.
Bugbear has also optimized Wreckfest and promises faster loading times and improved performance. Input lag has been reduced to help make the races seem even tighter. Additional updates include private lobbies, Steam achievements, Steam cloud support, UI adjustments, and various bug fixes.
Check out the full patch notes for more details. Expect more updates in the future as Bugbear continues to release content from its season pass, which will include eight content packs total.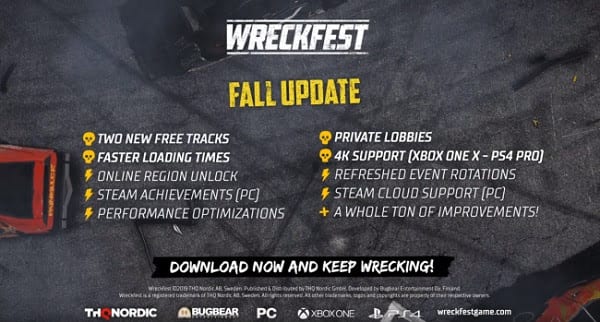 A different kind of race
Wreckfest distinguishes itself from other racing games like Dirt Rally or Assetto Corsa in that it doesn't try to achieve realism. It embraces the chaotic and absurd. It allows you to drive a couch or an outhouse bolted to an ATV. If you are behind and the race is nearing its end, it encourages you to think, "Well, I can't win, so I'm going to do my damnedest to just destroy this guy in front of me on the next corner." And it works. There's a lot of satisfaction to be had when you see a guy in front of you set up a perfect line around a corner right before you t-bone him and send his car flipping into the guardrails. What wonderful, beautiful chaos.
In between matches, you can customize your cars with beat-up paint jobs or appropriate slogans like "skullduggery" or "just try it." It's deeper than it looks, too. Depending on whether you are in a demolition derby or a race, or if the track is sand or asphalt, you can adjust different aspects of your car such as gear length or suspension. There are different vehicles to choose from, too. Want some American muscle to roar down those straights? Do it. Want a light Euro coupe to drift effortlessly through those corners? Hop in.
You can buy Wreckfest on Steam for $39.99. The season pass will cost you $22.99.