We hope everyone's enjoying their Halloween celebration so far. Also, it looks like we're in for either a trick or a treat. That's because, apparently, the second expansion for Civilization VI has just leaked. The title of this expansion? Vesuvius. Yes, we were looking for a nifty image that would be fitting, and so we found one from the movie Pompeii, which starred Roman Jon Snow.
Anyway, the leak came from an anonymous user in 4chan and has since been reposted on a Reddit thread from user Duke_Bilgewater. The leak states a purported release date of February 14, 2019. It also has several images of concept art for a particular leader as well as water-based buildings. Note that these aren't just coastal constructions but ones in the middle of the ocean. The idea is similar to buildings in the Rising Tide expansion for Civilization: Beyond Earth. Beneath one image you can clearly see it marked as an asset for Civilization VI: Vesuvius. Check them out below: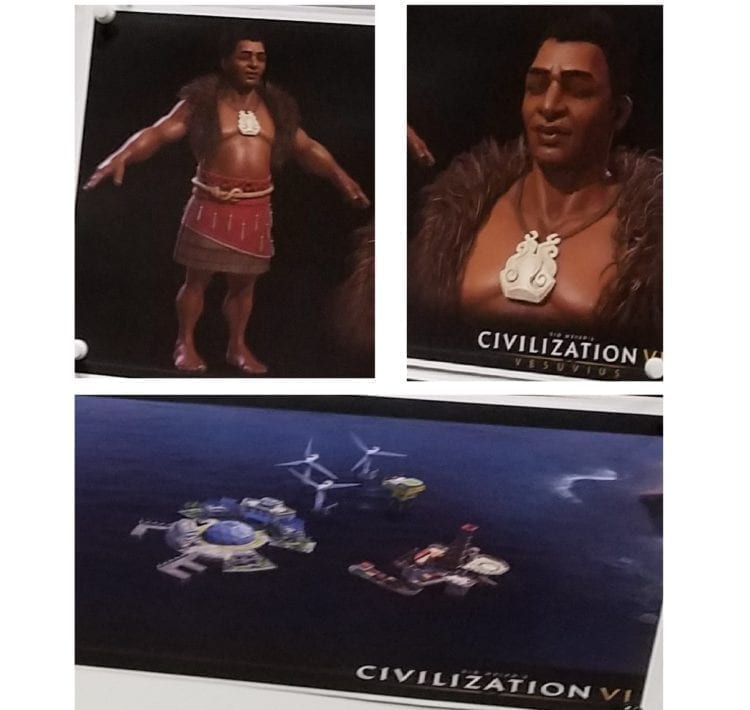 Civilization VI: Vesuvius – From Pompeii To Pom-Play
First off, Civilization fanatics have already begun to surmise who this particular leader is. Given the inclusion of buildings that you can build on water, it may focus on seaborne and naval powerhouse factions. The main guess, based on the clothing and apparel, would be a Polynesian leader — perhaps Tongan or Maori. It's worth noting that one such leader, Kamehameha, was the Polynesian leader in Civilization V; he was considered a top choice due to bonuses to early-game navigation.
There's also one more thing that's fairly telling and that's the choice of the expansion's name: Vesuvius. That volcano erupted in 79 AD and was considered one of the most devastating natural disasters in history. The city of Pompeii, buried in ash and burned in volcanic fire, remained a testament to nature's capricious and destructive whims.
For Firaxis to choose Vesuvius as the expansion's name could suggest the return of natural disaster events. These events — earthquakes, floods, tsunamis, and more — were present in Civilization VI. The developers removed this mechanic in succeeding games since they were considered "un-fun" for the player. So there might be a chance that we'd see natural disasters or random events that would fire. Perhaps these would challenge you during a Golden Age or Dark Age. This would also be the first time that the expansion's name would focus on a specific place or location rather than concepts or themes.
Regardless, we have to state that these leaks are still unverified. This might be what Firaxis aims to do in Civilization VI (a treat), or this could be one elaborate hoax (a trick). Like the sea, which seems to be the focus of Civilization VI: Vesuvius, we still have to treat some information with a grain of salt.