Capcom is gearing up to give us some scares this coming May, and we have already had a taste of what is to come. Not only are we getting a close audience with Lady Dimitrescu and her trio of bloodthirsty daughters, but the actual locations of Resident Evil Village appear to be equally dangerous. While footage and gameplay have only shown us snippets of the village, we now know a little bit more. Thanks to a leak of the collector's edition of Resident Evil Village, which contains a map, the full extent of the village is revealed.
Although it is not a proper representation of what we can expect in-game, it still gives us an idea of the place. It is likely these are major locations, rather than the smaller areas we will have to trudge through. As a fair warning, the map contents likely contain spoilers. If you want to enjoy Resident Evil Village in a blind playthrough, do not read any further.
Four major locations stand out on the map for Resident Evil Village. Castle Dimitrescu is obvious huge based upon the many different looks we've seen since the game was revealed. There is also House Beneviento to the west, which could yet be another opulent location for players to visit.
Heisenberg's Factory is to the southwest. This is definitely going to be a place full of puzzles and traps. To the south, we have Moreau's Reservoir. It does not seem like an easy place to be, not with a gigantic monster lurking in the waters.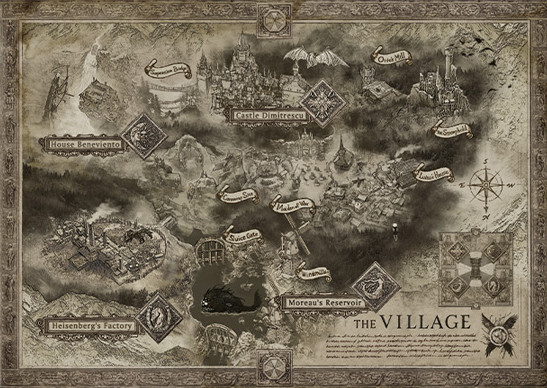 Mapping death
Needless to say, there will certainly be even more surprises and haunting places we will visit in the game. Unless you're willing to shell out $220 USD for the Resident Evil Village collector's edition, this map is not within reach. It comes alongside an art book, as well as a statue of series regular Chris Redfield.
Resident Evil Village launches this May 7.