Company of Heroes is a legendary RTS and probably the finest strategy game Relic ever produced. Its board game adaptation is currently on Kickstarter — and it has been funded more than twice over.
At the time of this writing, the Company of Heroes Board Game has attracted over $250,000 in funding — or 250% of the original amount asked. There are still 21 days left in the campaign, which will end on June 26. It's not a cheap game by any stretch of the imagination: The core set costs $99 dollars before shipping.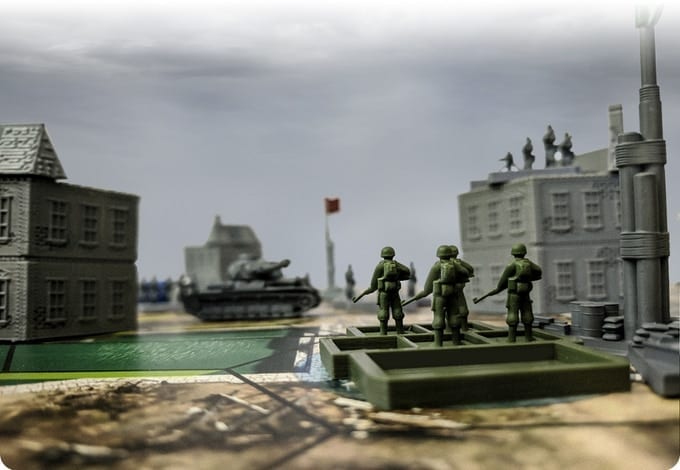 A hundred dollarydoos will get you 32 vehicles and 130 miniatures, all in the unusual 1:120 scale. (It falls somewhere in the middle between the 15mm and 20mm scales popular with miniature wargaming enthusiasts.) Other components include 55 dice, 44 figure trays, 120 acrylic markers, and 12 production tiles — the list goes on. The first map board to be included is 27 x 36″ Trois Pointe, not based on any of the existing game maps as far as I'm aware of.
"Big Red One" is a (plastic) crack infantry division
The Company of Heroes Board Game, ostensibly based on the first (read: good) game in the series, will launch with four factions: Americans, Germans (both of them featured in the original game), the British (first appearance: Opposing Fronts expansion), and Soviets (not seen outside mods or Company of Heroes 2).
As far as gameplay is concerned, you will be able to play it either real-time or turn-based, though I'm not sure how the former will work. You will establish a base, produce units, take sectors, upgrade your troops, (That's what the slots on the unit trays and many of the dice are for.) and fight. The Kickstarter states that "a third of the game revolves around your HQ board and production tiles," so the game won't be just a dumb slugfest. Commander abilities and doctrinal unlocks also make an appearance, although they draw clear inspiration from the second game in the series (and so does the art).
To the great disappointment of Wehraboos everywhere, there seem to be no Panthers in the game so far. However, the fans funding the game seem undeterred, since nearly 900 of the approximate 1700 backers are going in for the $199 tier, which gives them everything, including the single player supplement and terrain.
Company of Heroes Board Game is slated for a May 2020 release. My take? It's totally worth it if you're hoping to snare your friends into historical miniatures wargaming. I know from experience that any board game that features unpainted miniatures will inspire some of the players to pick up the brush. And from there, it's but a skip, hop, and jump before you're playing Battlegroup Kursk.
Besides, as a board game, Company of Heroes will be no less moddable than the PC original!