Funcom and Petroglyph have announced Conan Unconquered, an RTS set in the Conan universe.
Conan Unconquered tasks players with building and defending a stronghold, as waves of raiders attempt to burn it to the ground. This might sound familiar to players of They Are Billions, which appears to be where Conan Unconquered has taken a fair bit of its inspiration.

They Are Billions, You Are Two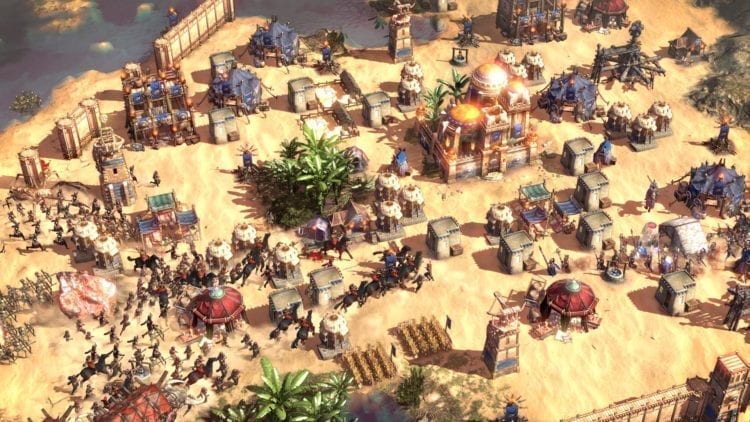 One difference is that Conan Unconquered allows players to fight off the hordes in co-op. Both players will share a base, but are free to build, research, and train as they like in an effort to stave off their shared (Thulsa) doom.
You'll have to harvest food, gold, wood, and iron in order to construct defenses and train your soldiers. You'll also have access to hero units like Conan himself, with special powers and the ability to equip artifacts you find across the randomly-generated map, as well as calling up giant stompy avatars of the gods.
Sadly, even stomping enemies into wet smears via a giant colossus can cause problems. Other than things like "combat damage", "fire", and "giant snakes", you have to worry about corpses. Bodies rot and spread disease, and that's just the sort of thing an enemy necromancer might like to take advantage of.

If this sounds a bit hectic, fear not: you can pause at any time to give orders or survey your position. Whew.

Do Not Be Driven Before Them

Not quite what I expected when Funcom teased a new Conan title, but it's certainly fitting. Conan Unconquered appears to draw from Black Colossus, one of the Conan short stories, in which the titular Cimerian winds up leading a military force in defense of a kingdom against a huge horde seeking its destruction.
Petroglyph, too, are probably stable hands for this. The company was founded by ex-Westwood developers with experience on Command & Conquer and Dune 2, so they certainly have roots in this genre. The company has developed Grey Goo, Star Wars: Empire at War, and is currently known to be working on the Command & Conquer remasters.
The real question is whether Conan Unconquered can distinguish itself from They Are Billions in a meaningful way. For that, we'll have to wait and see. Conan Unconquered is due out in the second quarter of 2019, so we'll hopefully have a better idea soon.
You can check out the first screenshots and the reveal trailer below.