Good news for those of you awaiting the upcoming RTS Conan Unconquered. Developer Petroglyph and publisher Funcom have revealed they are releasing the game just a smidgen earlier than expected. Also, they've revealed that PC system specs, which will give you a good idea on just how prepared you are to crush your enemies, to see them driven before you.
Granted, the game isn't making a huge leap backward. Isntead of releasing on May 30, Conan Unconquered is coming out on May 29. Yes, it's a whole day, so it's not like you'll be fighting off barbaric hoards by sundown. Still, a day early is a day early, and fans eager to crush their enemies and so on will be able to do it just a tad sooner now.
Petroglyph has also revealed the system specs, which actually aren't that bad at all. They're certainly reasonable, which doesn't come as a surprise since few RTS games are that demanding on hardware.
Minumum:
Windows 7, 8 or 10 (64 bit)
8GB of RAM
Core i3 (dual core) @3Ghz+ or equivalent
Intel HD Graphics 620 or DX11 graphics card w/ minimum 1GB dedicated RAM
Storage – 10GB
Recommended:
Windows 7, 8 or 10 (64 bit)
8GB of RAM
Core i5 (quad core) @3Ghz+ or equivalent
Nvidia Geforce GTX 970 or AMD RX580 or better
Storage – 10GB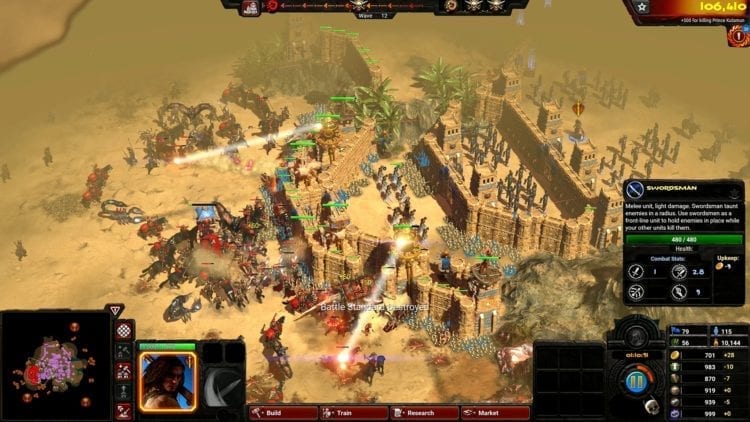 Steel isn't strong, boy. Flesh is stronger.
Conan Unconquered isn't your typical RTS. Many of compared it to the zombie slaughter fest that is They Are Billions, where you defend your hold against a mass of swarming enemies. It's a blend of RTS and survival, where you must build strong forces and even stronger walls to survive. Conan Unconquered does include co-op, as well as a challenge mode that pits players against one another on a "unique map with a unique leaderboard." Oh, how unique!
Conan Unconquered is set to release for PC on May 29.