This week's Content Drop will have some big guns. We'll see the PC releases for major blockbuster titles such as Gears 5 and Borderlands 3. Other hotly anticipated titles such as Greedfall, Blasphemous, eFootball PES 2020, NASCAR Heat 4, and The Walking Dead: The Telltale Definitive Series will also release this week.
For the other games that'll be coming out this September 2019, check out the monthly PC game releases listing. As for the rest of the games launching this year and beyond, you can view our updated release dates list.
Gears 5
Release Date: September 10
Developer: The Coalition
Publisher: Microsoft/Xbox Game Studios
Starting off our Content Drop this week is Gears 5. The latest entry in the Gears of War franchise actually came out a few days ago (September 6). Well, that's only if you're subscribed to the Xbox Ultimate Game Pass. If you weren't, then you'll be able to play the game today.
In Gears 5, the world is once again under threat, this time from the Swarm, successors of the Locust Horde from prior games. The main character is Kate Diaz who must find a way to destroy these monsters. But, Kate doesn't need to go at it alone. Gears 5 also features a co-op campaign for up to three players online (or via split-screen). Additional game types include a versus bout as well as an unending horde mode.
Gears 5 also has a couple of tie-ins and special character versions such as those from Terminator: Dark Fate (allowing you to play as Sarah Connor). Oh, and you can also get to play as "The Animal" Dave Batista.
Greedfall
Release Date: September 10
Developer: Spiders
Publisher: Focus Home Interactive
Store: Steam
Greedfall is the latest release from developer Spiders (Bound by Flame, The Technomancer). This action-RPG provides you with hours of exploration in a world that's been ravaged by colonialism. Greedfall combines medieval combat along with magic and fantasy themes.
Andrew Farrell checked out Greedfall in the official review. There's a lot of fun to be had in the game, along with well-written dialogue and an expansive story. He also noted how the mechanics such as the loot, skill trees, and factions kept him engaged. The downside was that reused assets from environments, interiors, and even faces did seem quite disappointing.
Borderlands 3
Release Date: September 13
Developer: Gearbox Software
Publisher: 2K
Store: Epic
Borderlands 3 is finally here. The king of looter-shooters in past years is back, and not without a bit of controversy. It all started back in April when Borderlands 3 was announced as an Epic Games Store exclusive. That was followed a month later when David Eddings, a former Gearbox employee and Claptrap's voice actor alleged that he was physically assaulted by Randy Pitchford, Gearbox's CEO.
Fast forward and we're now just a few days away from Borderlands 3's official release. You'll be able to choose from four new Vault Hunters: Amara, FL4k, Moze, and Zane. If you're missing some old favorites, don't worry because some characters will make cameos in Borderlands 3. You've got your co-op gameplay, along with the "Guardian Rank" system, Mayhem mode, and Proving Grounds once you're through with the lengthy campaign.
Note: Review codes for Borderlands 3 were initially provided to US-based websites. We'll have a review forthcoming. But, for now, you could go ahead and check out the official review from our sister site Destructoid.
Other Content Drops this week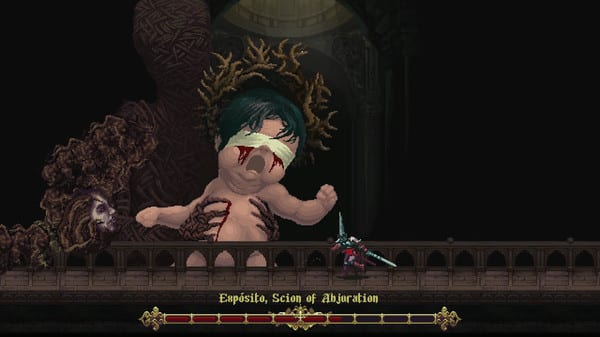 Blasphemous (September 10) – Action, platforming, boss battles, and gory executions — everything you might be looking for in the "Metroidvania" genre. You can have a look at Andrew Farell's review right here. You can also find Blasphemous on Steam.
The Walking Dead: The Telltale Definitive Series (September 10) – Relive the stories of Lee, Clementine, Alvin Jr., and their friends and foes. The Telltale Definitive Series version includes all four main "seasons," 400 Days, and The Walking Dead: Michonne. Feel free to take a look at our official review of the concluding episode of the series' final season. You can find the collection on Epic.
eFootball PES 2020 (September 10) – Return to the pitch in the next game in the Pro Evolution Soccer franchise. You can find it on Steam.
Nascar HEAT (September 13) – The official video game of NASCAR is back for another race this year. You can find it on Steam.
Next week's Content Drops
We'll have more Content Drops with next week's PC game releases. We'll see Ni no Kuni: Wrath of the White Witch Remastered, Police Stories, Devil's Hunt, Untitled Goose Game, and even a Groundhog Day VR game. We'll see you then.
---
Note: All release dates are for North America.