This week's Content Drop kicks off November 2019 with a fashion. The PC game releases this week include Planet Zoo, Need for Speed Heat, and Jumanji: The Video Game. Oh, and in case you haven't heard, Red Dead Redemption 2 will finally arrive for PCs.
For the other games that will be releasing this November 2019, check out the monthly PC game releases listing. As for the rest of the games launching this year and beyond, you can view our full release dates list.
Red Dead Redemption 2
Release Date: November 5
Developer: Rockstar Games
Publisher: Rockstar Games
Store: Rockstar
Red Dead Redemption 2 might be the biggest PC game release this week, and likely for the entirety of November 2019. Rockstar's masterpiece netted extremely glowing review scores when it initially released last year. It has an OpenCritic average of 97% and the review from our sister-site Destructoid considered it "the epitome of ambition."
To be fair, rumors regarding the arrival of Red Dead Redemption 2 for PCs had been circulating since its console release. First, a PC version was discovered in a European retailer's website. Next, the source code from Rockstar's own Social Club feature revealed achievements for the PC version.
Red Dead Redemption 2 puts you in the role of Arthur Morgan who's a member of an outlaw band. It's also a prequel to the events of the first game, although you'll still have interactions with the original protagonist John Marston. The game is set in the vastness of the wild west, with open-world fixtures such as quests, bounties, treasure maps, and even card games. Dialogue choices can shape your relationships with characters or the result of missions, and committing crimes will lead to U.S. Marshals searching for you. Don't fret, because an assortment of firearms accurate to the time period can help you escape or cause mayhem.
Purchasing Red Dead Redemption 2 via Rockstar's own store/launcher will provide you with an additional free game. Choices include Max Payne 3: The Complete Edition, L.A. Noire: The Complete Edition, Bully: Scholarship Edition, or older Grand Theft Auto games. The PC version comes packed with extra tweaks such as HDR support, multi-monitor configurations, and extra bounty hunter missions and weapons. Red Dead Redemption 2 is also available in various storefronts such as Epic, Humble Bundle, GameStop, and more, although the Steam release will come a bit later in December 2019.
Planet Zoo
Release Date: November 5
Developer: Frontier Developments
Publisher: Frontier Developments
Store: Steam
If Red Dead Redemption 2's wild west frontier isn't to your liking, you can go ahead and check out Planet Zoo. The game comes from the developers of Planet Coaster and Zoo Tycoon and is the spiritual successor of the latter.
In Planet Zoo, you can try out the campaign which spans various locations around the globe, or the sandbox mode which offers near-unlimited means of customizing and designing your park. The game is expected to have 50 animals at launch from elephants to zebras to lions and crocodiles. Animals are also governed by their unique AI and, as such, will react and adapt accordingly (such as wolves developing pack mentality).
We checked out Planet Zoo during the beta and there were a few issues. We're hoping that these have been ironed out just in time for this week's PC release.
Need for Speed Heat
Release Date: November 8
Developer: Ghost Games
Publisher: EA
Store: EA Origin
EA's long-running racing franchise puts you at the wheel and promises loads of action. Whether it's beating other drivers to the finish line or outrunning the cops, Need for Speed Heat might have what it takes to deliver the thrills.
As a driver in quaint Palm City, your skills in illegal street racing are put to the test in Need for Speed Heat. Reckless driving, speeding, and trying to escape the long arm of the law will net you "heat," increasing your wanted level as you go along. During the day, Palm City's (fairly professional) police cops will chase you down. But, at night, a rogue task force will attempt to bring you down using kill switches, helicopters, and more.
Numerous customization options are included in Need for Speed Heat. The game's deluxe edition even has boosts for your reputation and bank (cash) gains. Also, while Need for Speed Heat does release on November 8, having EA's Origin Access Premier will give you three days early access.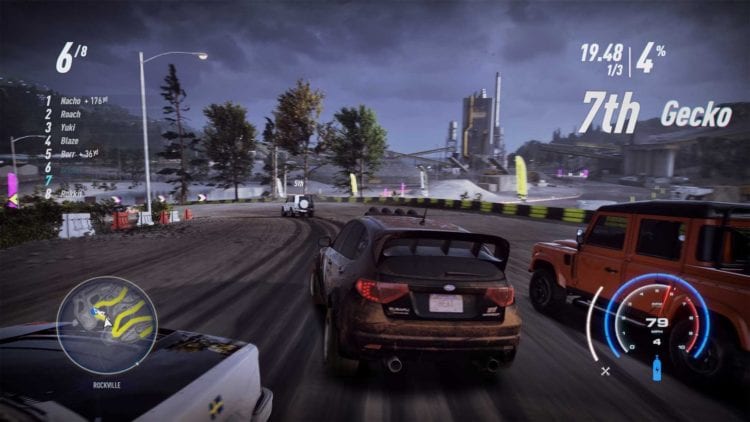 Other Content Drops this week
Jumanji: The Video Game (November 8) – Play as the characters from the recent Jumanji movies in this adventure game adaptation. You can find it on Steam.
Next week's Content Drops
Next week's Content Drops and PC game releases include Star Wars Jedi: Fallen Order, Romancing SaGa 3, Kingdom Under Fire 2, Age of Empires II: Definitive Edition, and more. Two games which were previously delayed — Paranoia: Happiness is Mandatory and Blacksad: Under the Skin — will also release for PCs next week. We'll see you then.
---
Note: All release dates are for North America.