No matter how many games I play, I always seem to find myself coming back to action platformers. They remind me of simpler times, when you could just grab a cartridge, throw it in your console and start an epic journey. Although those things have somewhat changed, the formula utilized to recreate those simplistic adventures is still alive and kicking. Cybarian: The Time Travelling Warrior is very much a callback to the many retro games that have come before it, complete with a '90s CRT television look, and bumpin' chiptune soundtrack.
I'll admit that there is more emotion conveyed through Cybarian's Kickstarter page than through its brief demo. That's not necessarily a bad thing, either. It shows that the studio developing the title, Ritual Games, has a lot more in store when the final product is released.
The demo focuses on what seems to be the core of the game. Cybarian is a beat'em up, side-scrolling action platformer. You play as a barbarian tossed into time, only to crash-land in the distant future. This, of course, means it's time to start kicking ass and taking names.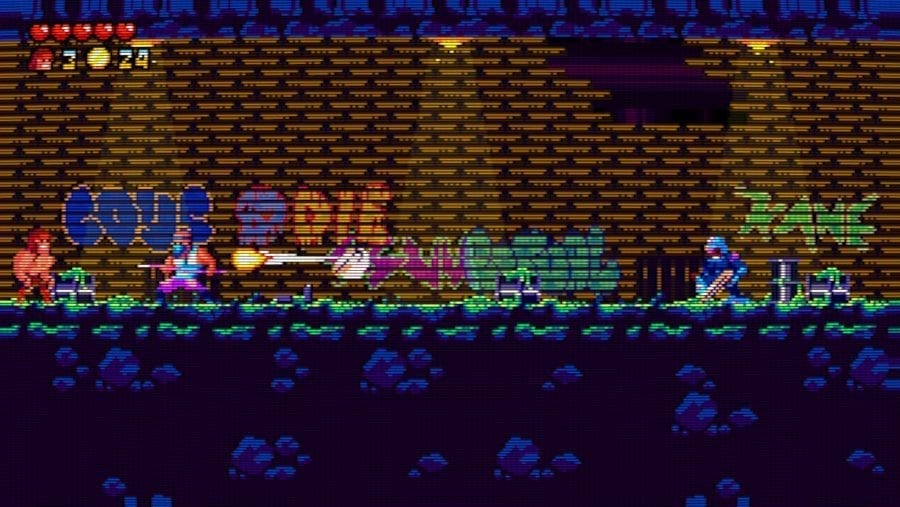 Ax-imum carnage!
There are two main attacks in the game. You can swing your ax for close-quarter strikes, or toss it like a boomerang. Each move has its pros and cons. For example, striking an enemy leaves you locked in the attack animation. So, when and who you strike in a given panel is important. Enemies on foot will inch closer to you while others fire projectiles in the distance. Throwing your ax has its benefits as it is treated like a ranged attack. However, doing so leaves you vulnerable as you wait for the weapon to return. You can also throw your ax for swifter strikes, pressing the throw button again to call it back quicker.
Now watch me whip, now watch me animate
Outside of your simple attacks, you also have a dodge. Rolling is introduced in order to pass by enemies and avoid strikes. The one thing that I did find in utilizing the attacks and dodge, at this point anyway, is that they all felt really clunky. I suppose the delays in animation is all part of the genre or design. However, I felt that they didn't really have a fine-tuned pop to them. I could see these becoming frustrating over the course of the game as enemy attacks are mostly based on timing theirs against yours. It boils down to watching the animations rather than being swift with button mashes.
I'm actually intrigued with Cybarian. The soundtrack already has me feelin' all the feels, providing punchy 'tunes that really shine in the eventual boss fight. All other sound effects in the game stay true to the era with raspy snarls and muffled booms. Speaking of the boss, the end baddy in the first level shows a lot of promise for things to come.
Personally, I have not backed the project. I do think, however, that it shows a lot of potential and could very well be something to pique the interest of 2D platforming fans. I would like to see more polish in the attacks and a more fine-tuned set of animations for the final release.
If you would like to back Cybarian: The Time Travelling Warrior, you can check out the Kickstarter campaign here. At the time of writing this, there are only a few days left to support the project.