Dauntless, the spunky, free-to-play action RPG with dreams of Monster Hunter, will leave beta and launch on PC next week. The game has been playable for some time, of course. But starting on May 21, it's ditching its launcher and coming exclusively to the Epic Games Store platform. Yes, one more exclusive for the vault.
Regardless of your opinion on platforms, that doesn't mean Dauntless isn't worth a look. Indeed, the game is very much like Capcom's series of Monster Hunter games, albeit more accessible with briefer fights and a more relaxed focus on grinding. Naturally, you still have to carve the hide of a beast or two in order to get that sweet, sweet armor set you've been eyeing. But it'll likely take far less time than in Capcom's premier monster slaying franchise.
We have known for some time that developer Phoenix Labs was going to take Dauntless to the Epic Games Store. Back in January, in fact, the company announced the then-upcoming transfer. There will be some hitches going from its own launcher to the new platform. Back then, Phoenix Labs was already testing its transfer system, allowing players to move their account over early. If you waited until now, there's a chance you may have to choose a new user name if it's been taken. But fear not, you should have all your information, characters, and stats in tow. You'll just have to let your friends know that you're called "NoobSlayer69sephiroth" from here on out.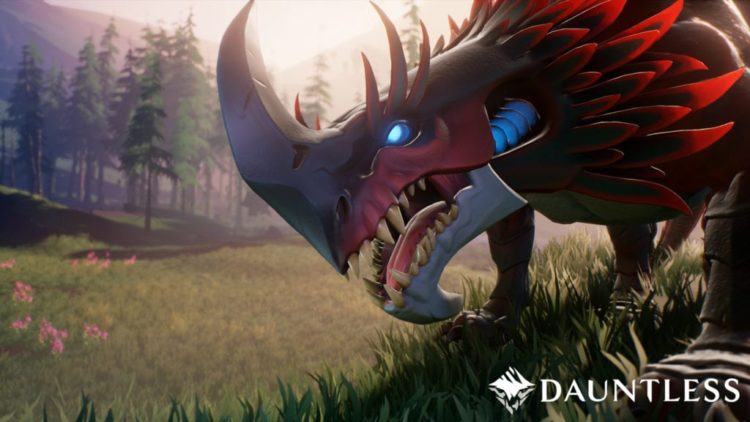 Cross Fire
Though the big move is undoubtedly occupying the minds of Phoenix Labs, afterward the team will have more in store. The big one seems to be allowing players to hunt monsters with the same account no matter the platform. Yes, cross-play is a feature the company wants to see implemented in the near future.
Epic has embraced the idea of allowing players to move around or battle it out with friends on different platforms. This, of course, means that soon you should be able to play Dauntless on PC with folks on Xbox One or PlayStation 4, or move from console to PC and vice versa. At this time, the developer hasn't announced when cross-play will become a reality, but it will hopefully be soon.
"We think that Slayers should be able to play together no matter where they're playing from — be it Xbox One, PlayStation 4, or the Epic Games store," reads the cross-play section of the Dauntless roadmap. "That's why we're hard at work making 'One Dauntless' a reality."
Dauntless will be available on the Epic Games Store starting May 21.