Ghost Ship Games, the developer of Deep Rock Galactic, and Mod.io have combined their powers to bring mod support to the co-op FPS dwarven mining and massacring game. According to the roadmap revealed by the developer earlier this year, mod support was supposed to release with Update 34. Ghost Ship is calling this Update 34.5. So, technically, it's still on time. Either way, this is amazing news for Deep Rock Galactic fans.
The mod support announcement also includes some news about Update 35. The developer says that it will be the biggest update to the game yet.
The Deep Rock Galactic mod support system is designed with both casual and hardcore players in mind. Players can easily manage mods through the brand-new modding menu. If you'd like to add some mods to your space mining experience, there are plenty available for download on the Mod.io page for Deep Rock Galactic.
There are three types of mods for you to utilize. Verified mods are quality of life updates to the base game. They do not alter gameplay. Cosmetic and Audio mods also fall into the Verified category. Approved mods do alter gameplay elements to create more challenging or alternative game modes. Sandbox mods are ones that change rewards and mission payouts or unlock any in-game items.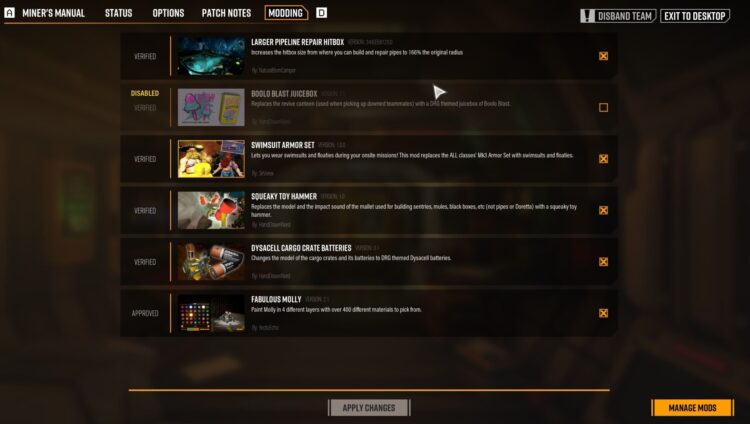 Tags for servers using mods will clearly be displayed post Update 34.5. This takes the effort out of the hands of server hosts. Anyone wanting to join a server will easily be able to see what mods are in play. If you want to join a server but you do not have the mods installed, they will now automatically update. What a pleasure.
Have you heard about Update 35?
Ghost Ship has confirmed that four new weapons will be introduced to Deep Rock Galactic with the massive update. In fact, there's a video of each one. Just click on the name to check the weapon in action. There's the LOK-1 Smart Rifle, the Corrosive Sludge Pump, the "Hurricane" Guided Rocket System, and the DRAK-25 Plasma Carbine. Other than that, Ghost Ship has simply said there are MANY (their capitals, not mine) more details to come.