Okay, Destiny 2 lovers, this one's for you. The Valentine's Day-themed Crimson Days event has once again returned, taking place between now and February 18. During that time, players can try out new mechanics and take on a number of special bounties.
According to the official Destiny 2 page, players will have a chance to team up to check out the Crimson Doubles Crucible playlist. Here, Lord Shaxx, residing in the Tower, will have a number of bounties to complete. Those that aren't lucky enough to have a partner can find one via matchmaking, so they won't have to go it alone.
Playing with a partner definitely has an advantage, as you'll be able to recharge abilities much more quickly. This will help you when you have to clean house on opponents. But get separated too far from your colleague, and the other team will be able to spot you much easier — even through walls.
Perfect for lovers — or buddies
Those that take part in Crimson Days can earn rewards through a number of Valentine's Day-based items. These include special Sparrows, Ghost Shells, a dance emote, shaders, a weapon ornament for the Wardcliff Coil Exotic Rocket Launcher, and The Vow, a specially balanced bow. Check out a first look at this event below.
In addition, Destiny 2 players that feel like shopping around will find new items up for grabs in the Eververse. A number of new cosmetics are available. These include an additional Ghost Shell, a new ornament, and a bonding emote for you and your partner. It's shown below — and kind of looks like something out of Dragon Ball Z.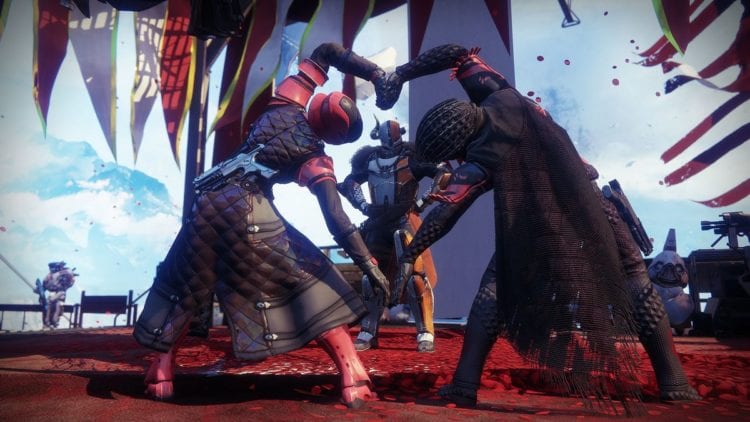 You've got just a week's time to partake in Crimson Days, so grab your partner (if you have one) and get ready to take on the bounties.
Don't have Destiny 2 yet? You can download it on Steam. It's free to play, though the new Shadowkeep expansion will set you back $34.99.