Changes are afoot over in the world of Hearthstone, as Blizzard continues to tweak its card game to attract new and returning players. With the major 20.0 patch coming on March 25, players can expect big changes as part of the package. Aside from the nerfing of Nitroboost and Battlegrounds tweaks, the main highlights of this upcoming Hearthstone patch 20.0 is the preparation for the arrival of the Classic Format and the unnerfing of certain cards.
If you were not aware, the Classic Format is akin to World of Warcraft Classic, but for Hearthstone instead. 240 of the game's original cards will be reverted back to their original forms circa 2014. More specifically, you will be looking at cards with the 1.0.0.5832 patch of June 2014 in effect.
The good old days had Warsong Commanders giving minions Charge, Leeroy Jenkins costing 4 mana, and Holy Smite can go face. For fans of those unruly days, Classic Format is perfect for you. In order to make that a reality with patch 20.0, Hearthstone will mirror your entire collection when the update goes live.
Turning back time
This means all relevant Basic, Classic, and even Hall of Fame cards will be duplicated. They will then be reverted back to the 2014 state. From there, players will be free to go about deck building. You can even expand your collection with Classic packs, which will drop two versions of cards. One will apply for the Classic Format while another for Legacy in Wild. Each will have their own corresponding stats.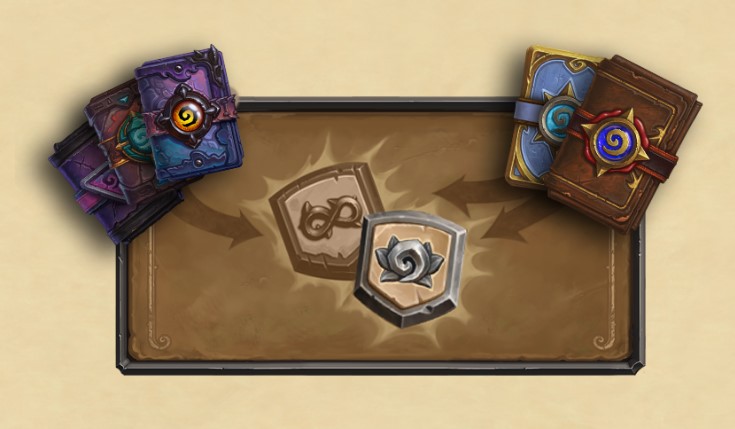 These cards will also be in their own sections of the Collection Manager. There will no confusion between old and new cards.
The Classic Format leaderboards will be live on March 30, together with the Forged in the Barrens expansion. Players of a certain vintage can duke it out with their favorite combos and see who still has the goods seven years on.
In addition, patch 20.0 for Hearthstone will herald in a period of potential madness as 36 cards will get unnerfed on their way to Wild. However, before they make the full transition on March 30, they will be playable in Standard. Here are the details you need to know:
The Great Unnerfing
Mage:
Mana Wrym – New: [Costs 1] 1 Attack, 2 Health.
Wrym Weaver – New: [Costs 4] 3 Attack, 5 Health. Spellburst: Summon two 1/2 Mana Wryms.
Conjurer's Calling –  New: [Costs 3].
Dragoncaster –  New: [Costs 6].
Hunter:
Flare – New: [Costs 1].
Hunter's Mark –  New: [Costs 1].
Starving Buzzard –  New: [Costs 2] 2 Attack, 1 Health.
Dinotamer Brann –  New: [Costs 7].
Warrior:
Charge – New: [Costs 3] Give a friendly minion +2 Attack and Charge.
Bloodsworn Mercenary – New: 3 Attack, 3 Health.
Scion of Ruin – New: [Costs 3].
Shaman:
Spirit Claws – New: [Costs 1].
Flametongue Totem –  New: [Costs 2] 0 Attack, 2 Health.
Invocation of Frost –  New: [Costs 1].
Dragon's Pack –  New: Summon two 2/3 Spirit Wolves with Taunt. If you've Invoked twice, give them +3/+3.
Corrupt Elementalist –  New: [Costs 5].
Druid:
Keeper of the Grove – New: 2 Attack, 4 Health.
Ancient of Lore – New: Choose One – Draw 2 cards; or Restore 5 Health.
Priest:
Power Word: Shield –  New: [Costs 1] Give a minion +2 Health. Draw a card.
Rogue:
The Caverns Below – New: Quest: Play four minions with the same name. Reward: Crystal Core (For the rest of the game, your minions are 5/5).
Edwin VanCleef – New: [Costs 3].
Blade Flurry – New: [Costs 2].
Necrium Apothecary – New: [Costs 4].
Galakrond, the Nightmare (Applies to upgraded versions) – New: Draw 1 card. It cost (0).
Paladin:
Call to Arms –  New: [Costs 4].
Warlock:
Fiendish Rites –  New: [Costs 3].
Neutral:
Undertaker – New: Whenever you summon a minion with Deathrattle, gain +1/+1.
Leper Gnome – New: 2 Attack, 1 Health.
Knife Juggler – New: 3 Attack, 2 Health.
Frenzied Felwing – New: 3 Attack, 3 Health.
Bad Luck Albatross – New: [Costs 3].
Saronite Chain Gang – New: Battlecry: Summon a copy of this minion.
Arcane Golem – New: 4 Attack, 2 Health. Charge.
Bonemare – New: [Costs 7].
Archivist Elysiana – New: [Costs 8].
Dragonqueen Alexstrasza – New: Battlecry: If your deck has no duplicates, add 2 other random Dragons to your hand. They cost (0).
Forged for a new expansion
In addition, Magical Spell Schools will be added to previously released Spells in both Standard and Wild. Blizzard hopes that it will add new synergies and more depth to players' collection. Hearthstone patch 20.0 will also make the previously announced changes to the rewards track of the game. Diamond cards are also on the agenda.
The upcoming Core Set changes have received some tweaks. Blizzard has provided the full breakdown as follows:
88 cards returning from Classic (54 class cards, 34 neutral cards).
52 cards returning from Basic (41 class cards, 11 neutral cards).
55 cards returning from Wild (36 class cards, 19 neutral cards).
4 cards returning from Ashes of Outland (4 Demon Hunter Class cards).
4 cards returning from Demon Hunter Initiate.
1 card returning from Hall of Fame (Shadowform).
31 new cards (20 Class cards, 11 Neutral cards).
Both the Stonetusk Boar and Bluegill Warrior will be replaced by the Emerald Skytalon and Redgill Razorjaw. The Shaman Hero power has also been updated. Hearthstone patch 20.0 will see the Wrath of Air damage totem be replaced by the Strength Totem. It grants +1 attack to a friendly minion at the end of the turn.
Even with all of these changes, there is still a long list of bug fixes and gameplay tweaks. Be sure to see the full patch notes for all the juicy details.