Capcom has released the free Bloody Palace mode for Devil May Cry 5. And thankfully, no, this isn't an April Fools' joke. Something useful on 1 April? It's a miracle!
Bloody Palace is a long-standing bonus mode in the Devil May Cry series, first appearing in Devil May Cry 2. While different games across the series have handled it in different ways, the basic elements remain the same: you battle your way through increasingly difficult "floors", taking on a selection of foes and bosses, and make it as far as you can before succumbing to death. Or – if you're really good – you might actually complete the thing. In short, it's a combination of survival mode and score attack, designed to test your skills to the absolute limit.
Showtime, Again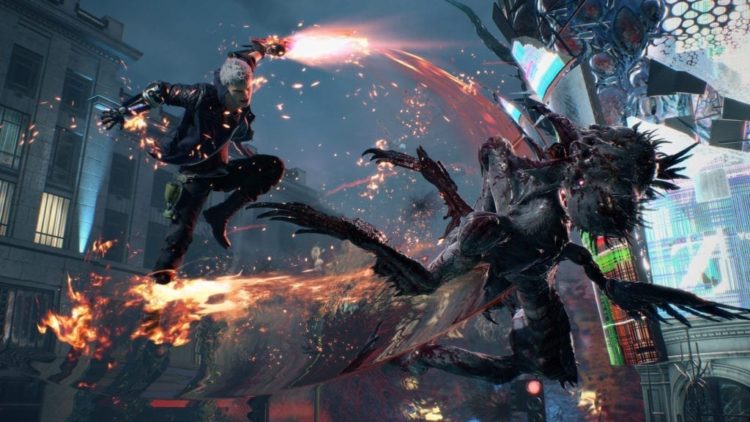 DMC5's Bloody Palace contains 101 floors and lets you battle through them as Dante, Nero, or V – but naturally, there are twists. For starters, you have a ticking timer and can only earn more time by getting high style ranks or clearing floors without taking damage. Slow and steady will not win this race: you'll need to be stylish, as flawless as possible, and fast.
That said, this update is just Bloody Palace. Despite what the rumours and datamining suggested there's no extra character and no co-op play. These might make an appearance later as future DLC, but for now you'll have to beat Bloody Palace alone and with only the three protagonists to choose from.
Our Andrew rather liked Devil May Cry 5, largely considering it a solid return to form with a decent PC port to boot. If you're still having trouble with this demon hunting business then have a look at his tips so that you, too, can make demons sob some big blobby tears.
Devil May Cry 5's Bloody Palace update is available now, completely free. You can check out a trailer for it below.
Tim has been playing PC games for longer than he's willing to admit. He's written for a number of publications, but has been with PC Invasion – in all its various incarnations – for over a decade. When not writing about games, Tim can occasionally be found speedrunning terrible ones, making people angry in Dota 2, or playing something obscure and random. He's also weirdly proud of his status as (probably) the Isle of Man's only professional games journalist.