Devolver Digital just wrapped up its live showcase with the ultimate parody of live-event marketing hype. The Devolverland Expo is a playable experience that includes everything from this year's digital showcase in a seemingly abandoned convention center. 
Faux company spokesperson Nina Struthers appeared again this year to announce the game in an epic speech. Struthers poked fun at the industry over the measures some companies take to sell games and the often arrogant attitudes of marketing execs.
Devolverland Expo breaks the fourth wall
Struthers really played up Devolverland Expo and made it sound like the greatest thing consumers would ever lay eyes on. Starting today, the game can be downloaded for free via Steam and promises to deliver the expo experience you missed out on this year. The game's file size is only a little over 7 GB, which makes it easy to check out too. 
The demo features Carrion, Weird West, Olija, Fall Guys, Disc Room, Shadow Warrior 3, Blightbound, and Serious Sam 4. You might be surprised at how much time you spend playing.
Ready to complete some marketing objectives?
The game prompts the player to sneak into the various booths, all while being mindful of the patrolling security bots. The booths themselves look gorgeous. Devolver spared no expense on the visual presentation of the showcase. Each booth includes content like developer videos and scenery related to the games. There's plenty of surprises hidden in the convention center, so keep your eyes peeled and expect things to get weird.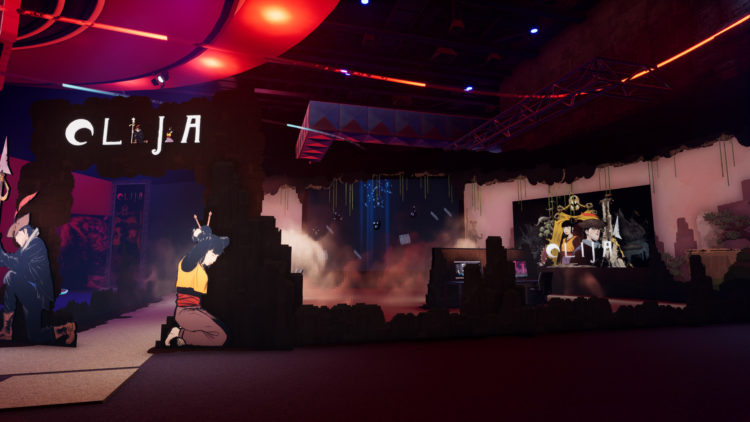 Getting started can be a little tricky, so here's a quick rundown of how to get inside. Once you load into the level, overload the front door and proceed directly forward to the South Hall. Attempting to open the locked doors will activate the security bots, but ignore them for now. Head back down the stairs, and find the Devolver merchandise stand in the hall on the right.
There you can acquire a t-shirt gun, which is useful for briefly disabling the bots. Next, head further down the hall to the security checkpoint. Fire a t-shirt through the open booth window at the glowing red button. The doors will open and you can then head upstairs to find a security badge that will grant access to the South Hall.
The idea to show off a virtual showcase via gameplay was brilliant on Devolver Digital's part. It's creative, immersive, and may genuinely help some people feel like they attended a convention this year. Be sure to let them know if you enjoyed it.