If you've been itching to jump back into some Diablo III action, we have some good news. Blizzard announced today that Season 17, known as The Season of Nightmares, will kick off on May 17. A patch will also accompany the launch of these nightmarish times.
It is your legacy
For the seasonal players, those who participate will see a bonus "provided by the Legacy of Nightmares." Those who explore the new builds will find "new combinations, particularly ones centered around their ring slots."
We're looking forward to seeing the strange and unusual things players put together at all Torment levels, so let your creativity run wild and see what combinations of Ancients you can combine to play your own way!
A trip down the cosmetics aisle
Another thing that stands out in the announcement is the ability to gain rewards from previous seasons. The notes indicate that you can now obtain items that were available in past seasons in the latest update. If you missed something the first time around, don't make the same mistake twice.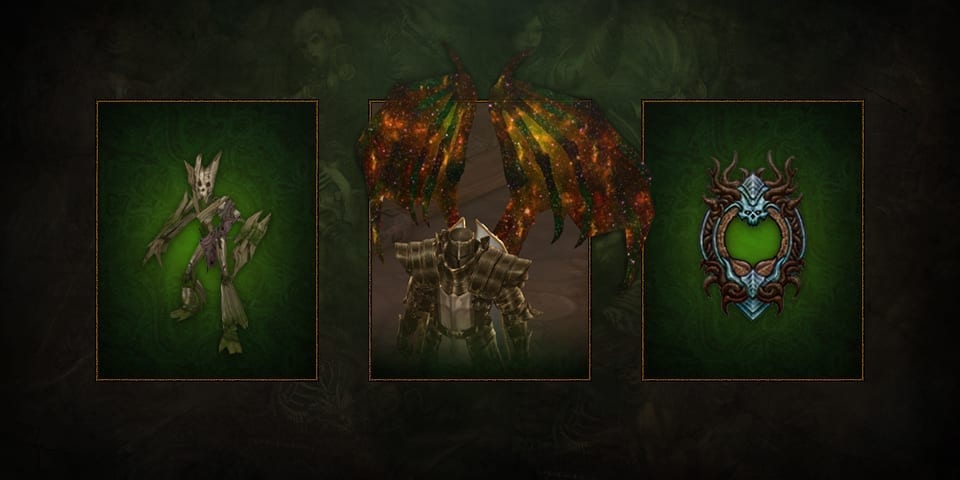 Outside of the Conqueror Set and additional Pant/Boot slot, there are a number of different portrait frames themed from the Greyhollow Island. For Diablo III's pet lovers, the Wickerman also returns for you to obtain. And if you are thirsty enough to complete all nine chapters of Season 17, you'll receive the Galactic Wings.
Conquering the season
In each season, reaching the Conquerer tier allows players to receive a new stash tab. You can obtain up to a maximum of five new tabs this way. This is never an easy task, however, so prepare to put in some work for this! For Season 17, these are the tasks ahead of you:
Guardian of Sanctuary: Finish a level 70 Nephalem Rift on Torment XIII within five minutes
Gem of My Life: Level three Legendary Gems to level 55
All I Do IS Win: Complete two Conquests this Season
Show Me What You Got: Kill Diablo at level 70 in under 1 minute and 30 seconds on Torment XIII difficulty
Money Ain't a Thang: Slay Greed on Torment XIII difficulty
Take U There: Reach Greater Rift level 60 Solo
Power Amplification: Use Kanai's Cube to augment an Ancient Legendary item with a level 50+ gem
Cubic Reconfiguration: Use Kanai's Cube to reforge a Legendary item
Other additions
Additionally, there are a ton of notes regarding tweaks to the game's performance, alongside others that include quality of life adjustments. Blizzard has also issued a number of bug fixes. Some of these include "Fixed an issue where The Immortal King's Set Dungeon objective numbers were incorrect" and "Necromancer Simulacrums now benefit from the Trag'Oul's Avatar 6-Piece Bonus."
If you want to get the full details of the Diablo III updated notes, you can jump to the full season and patch breakdown here. Some, as mentioned above with the slash tabs, focus on quality of life improvements. Others remain specific to the PC version of the game and include the following:
The cap for earning additional stash tabs through the Season Journey has been raised from 4 to 5 (PC Only)
Search functionality has been added to Stash (PC Only)
All Crafters now have an Expand/Collapse All button for recipes (PC Only)
Most Bounty indicators are now displayed immediately after entering the Bounty area
Death's Breath now drop in Horadric Caches
Thanks Diabloii.Net.