With the curtains finally drawn on both the PlayStation 5 and Xbox Series X technical specifications, the inevitable comparisons to gaming rigs have already begun. However, the disparity may be bridged further as Microsoft has just announced DirectX 12 Ultimate. Featuring several improvements over the previous version, this new piece of hardware will try to shorten the gap between Xbox Series X and PC gaming when it eventually launches in 2020.
Next-gen now and forever
The DirectX 12 Ultimate hardware, be it a standalone PC video card or part of the Xbox Series X GPU, is "guaranteed" to have support for new graphical features. Gamers can expect all the next-gen bells and whistles. DirectX Raytracing 1.1, Variable Rate Shading, Mesh Shares, and Sampler Feedback are just some of them. The blog claims DirectX 12 Ultimate will essentially "future-proof" you for the foreseeable future. And special features aside, the overall performance is promising a stellar experience as well. The blog post goes in for a deep dive for those interested in the features.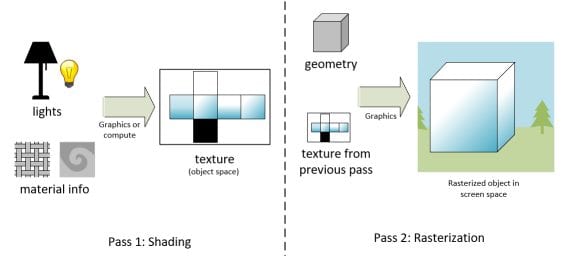 The onus of unifying the console and PC ecosystems will be on developers. Microsoft is of the position that DirectX 12 Ultimate has all the tools developers need. Creating awesome visual gameplay experiences for both Xbox Series X and PC will seemingly be easier than before. DX12 Ultimate will collate all upcoming features in "one common bundle" that will make cross-platform creation a more seamless process.
"By unifying the graphics platform across PC and Xbox Series X, DX12 Ultimate serves as a force multiplier for the entire gaming ecosystem," Microsoft emphasized. "No longer do the cycles operate independently! Instead, they now combine synergistically: When Xbox Series X releases, there will already be many millions of DX12 Ultimate PC graphics cards in the world with the same feature set, catalyzing a rapid adoption of new features, and when Xbox Series X brings a wave of new console gamers, PC will likewise benefit from this vast surge of new DX12 Ultimate-capable hardware!"
PC master race
Will this spell the end of the PC master race? It remains to be seen, but DirectX 12 Ultimate is a step in the right direction for parity. Higher-end PCs will always be pushing the limits of graphical prowess, no doubt. However, at least Microsoft is trying to even the playing field when it comes to features. Game developers looking for further insight into DirectX 12 Ultimate can turn to Microsoft's guide for a head start.