The latest trailer for Granblue Fantasy Versus introduces a new DLC character to the anime fighting game's roster, Djeeta. She will be available on April 7 along with Soriz, who recently saw his own reveal in another trailer. Emphasis on "reveal" – the guy's basically naked at times.
The sword-wielding Djeeta is the female main character choice from the original Granblue Fantasy. The male choice is Gran, who is already in Granblue Fantasy Versus. Even in her reveal trailer, Djeeta is seen to be replacing Gran. She's essentially a pink, female version of him. Having said that, she has some potent-looking moves, and her confident attitude is infectious.
Djeeta and Gran also have some similarities in their gameplay. They both fight with shortswords, and in the trailer, you can see them firing an identical energy attack. However, the description of the Granblue Fantasy Versus Djeeta reveal trailer describes her as a capable captain in her own right. So, it is likely she will have some unique moves of her own.
Sword at the ready
Djeeta is a self-taught swordswoman, so her skills are a bit rough. Her life is linked to the blue-haired girl, Lyria, featured in the trailer above. From that link, she can draw the power to overcome any obstacle. Djeeta is honest (to a fault) and always ready to lend a hand to anyone in need.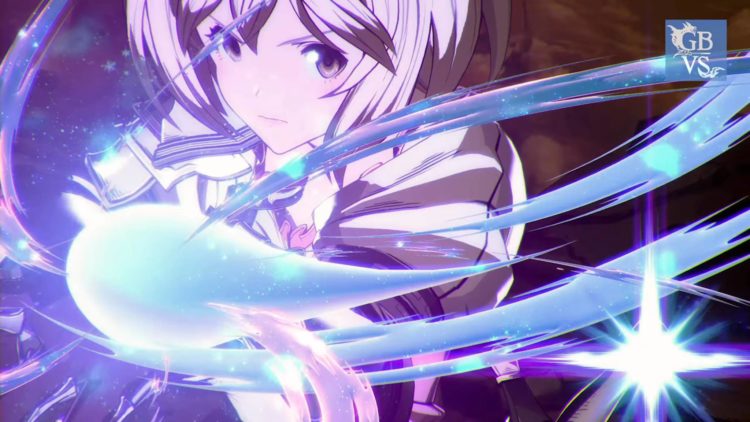 Purchasing Djeeta as a DLC character for Granblue Fantasy Versus will unlock the playable character, plus a lobby avatar, support character icon, and two additional quests. You can purchase her and Soriz individually when they release on April 7. Alternatively, you can purchase the Character Pass 1 to get them both, as well as Beelzebub, Narmaya, and Zooey when they each launch. Speaking of Zooey, her reveal trailer is due on April 17. So make sure you check back in then.
If you don't own the base Granblue Fantasy Versus game, you can pick it up for PC through Steam. And, if you'd like to know a bit more about the colorful brawler, make sure you check out our review of the game.