Things are changing in the world of Anno 1800. Following the past content updates for the city-builder, new content is coming via the Season 3 pass for the game. The first addition of the DLC is now available, and it brings a whole lot of trade with it. Anno 1800: Docklands gives players the option to turn their harbors into global trading hubs. This is done via the new modular warehouse district called the Docklands.
Each added module will bring a different effect. If you want faster repair times, or increased loading speed, there are modules for that. Whether you are starting a new game, or are deep into a current one, the Docklands DLC can be integrated naturally into Anno 1800.
The new addition also adds a new business mechanic in the form of import and export contracts. Players will be able to specialize in which type of business they prefer to see taking place in their harbors. The businesses you partner up with can also be chosen.
Together with the Docklands DLC, Anno 1800 is getting a free game update as well. This will contain improvements to the trade route menu, the option to turn harbor quays into streets to connect buildings, and more cosmetic DLC ornaments to make your city more attractive. Be sure to check out the full update changes here.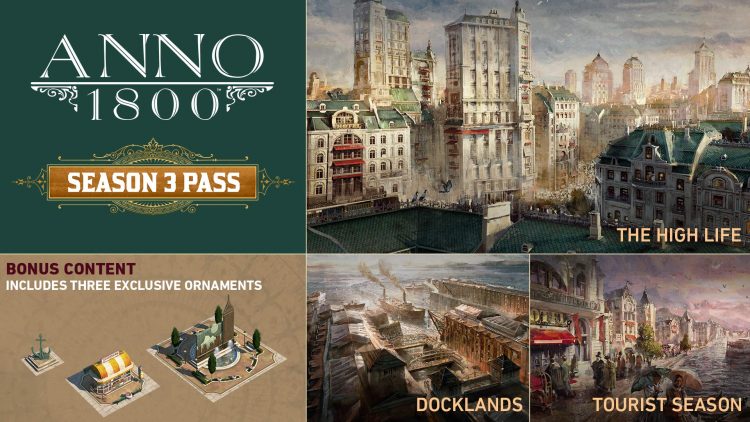 Looking ahead
The next Season 3 DLC will come in the form of Tourist Season. The spring DLC will introduce the Tourist residential tier into Anno 1800, and new hotel buildings for guests to check in. Travel is essential, so the new bus routes will be key as well. With enough tourists visiting, you might just unlock the new Tower monument.
Following the Docklands and Tourist Season will be High Life for Anno 1800. That DLC will bring modular skyscrapers into the game.
They will function as alternative, space-efficient housing for people, and will help you unlock the largest building of the game, the Empire Tower. The update will also add the Multi-Factory, which can increase the number of goods you can produce, making it perfect for selling said goods in the new Mall building.