People have, without a doubt, been enjoying Doom Eternal since it launched earlier this year. The latest entry in the franchise keeps the blood flowing, but Bethesda wants that to be in all the right ways. The Doom Eternal 2.1 patch adds some quality of life improvements, bug fixes, and marks the return of the popular weapon quick switch. On top of that, Bethesda promises an improved experience in Battlemode. Here's a quick rundown of everything to expect in the update.
The Weapon Quick Switch feature has been enabled again in both Campaign and Battlemode. The community manager took the opportunity to thank players for providing feedback on the matter. Another general update relates to an improvement in networking latency for the game.
Campaign updates and fixes
In regards to the campaign, the patch notes mentioned a series of fixed issues. Bethesda specifically mentioned a problematic glitch that made AI invulnerable after failed Glory Kills. That's no longer a thing now though, so you can feel at ease while doing terrible things to demons.
Speaking of dealing damage, all instances of failed enemy health drops have reportedly been solved. That should keep you alive longer, but if it doesn't, you no longer have to worry about your extra lives disappearing during the Revenant gameplay sequence in Cultist Base either. In addition to the gameplay fixes, several enemy animations were set right as well. If you saw some demons doing crazy things with their legs, it was probably worth the laugh, though.
Battlemode is visually and functionally better
Battlemode generally received the bulk of attention in this patch. There's a lot of specific changes to mention, so here we go. Bethesda fixed several crash issues, such as the one which occurs when backing out of matches. In addition to that, players should no longer experience a crash from the Round Upgrade menu. Furthermore, information on various menus was displaying incorrectly or inaccurately. These related to the Damage Report and player progression models. Bethesda corrected these issues as well.
Bethesda also fixed a suite of visual inconsistencies for the campaign mode. For multiplayer specifically, there was a persistent issue where health and ammo pick-ups didn't disappear after collection.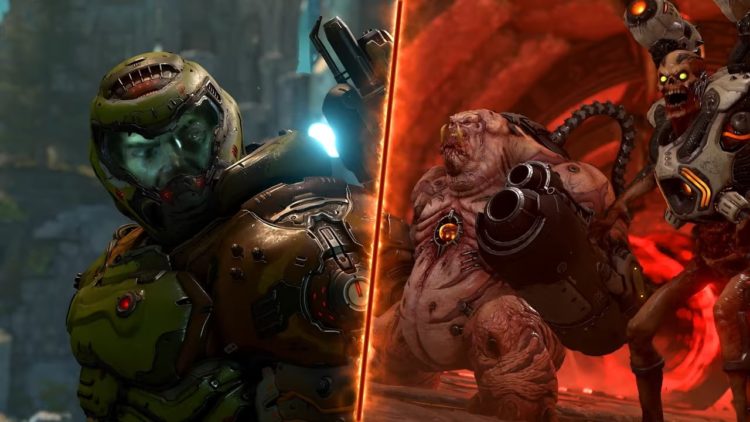 As far as gameplay adjustments, the Marauder's wolf will now deal damage 100% of the time when attacking The Slayer. The Mancubus also received a new ability which allows it to shoot after starting a double jump. Maykr Drones have been added back in to some loadouts. Bonus loot drops have been removed from headshots against the Maykr Drone though. The Slayers have also been nerfed in two ways, specifically for PC, because we is so good. The Precision Bolt damage against enemy-player demons has dropped from 400 down to 300. Slayer starting ammo was also reduced from 84 to 72 bullets.
Bear in mind that there are still some known issues throughout the game. This latest Doom Eternal patch should improve the experience for most players, though. You can read the full patch notes here on Bethesda's forums.