Doom Eternal is almost here, and I can hear the video cards shaking all over the world. However, much like the last go-around, they've got nothing to fear. Although the game is very good-looking, with a wide range of features, chances are good that damn near anyone will be able to run it. Let's take a look at the system requirements, shall we?
MINIMUM:
Requires a 64-bit processor and operating system
OS: 64-bit Windows 7 / 64-Bit Windows 10
Processor: Intel Core i5 @ 3.3 GHz or better, or AMD Ryzen 3 @ 3.1 GHz or better
Memory: 8 GB RAM
Graphics: NVIDIA GeForce GTX 1050Ti (4GB), GTX 1060 (3GB), GTX 1650 (4GB) or AMD Radeon R9 280(3GB), AMD Radeon R9 290 (4GB), RX 470 (4GB)
Network: Broadband Internet connection
Storage: 50 GB available space
Additional Notes: ( 1080p / 60 FPS / Low Quality Settings )
RECOMMENDED:
Requires a 64-bit processor and operating system
OS: 64-bit Windows 10
Processor: Intel Core i7-6700K or better, or AMD Ryzen 7 1800X or better
Memory: 8 GB RAM
Graphics: NVIDIA GeForce GTX 1060 (6GB), NVIDIA GeForce 970 (4GB), AMD RX 480 (8GB)
Network: Broadband Internet connection
Storage: 50 GB available space
Additional Notes: ( 1080p / 60 FPS / High Quality Settings ) – *On NVIDIA GTX 970 cards Texture Quality should be set to Medium
REVIEWER SPECS:
OS: 64-bit Windows 10
Processor: AMD Ryzen 5 2600x
Memory: 16 GB RAM
Graphics: Asrock 5700 XT Challenger
As we can see, the components needed to run Doom Eternal at 1080p and 60 FPS aren't all that extravagant. Naturally, since I'm using a 5700 XT, I'm running the game with everything cranked to max and am seeing a rock-solid frame rate. That being said, I only have a 1080p 60Hz monitor right now, so I wasn't able to try it at anything higher.
Anyone having issues with getting the game to run on their system will have a whole lot of options to trim down, as each item has a bunch of different quality options that range from Low all the way to Ultra Nightmare. All in all, it's an extremely good-looking game, but it doesn't look all that different from its predecessor. Let's take a look at the available options.
It's all about choices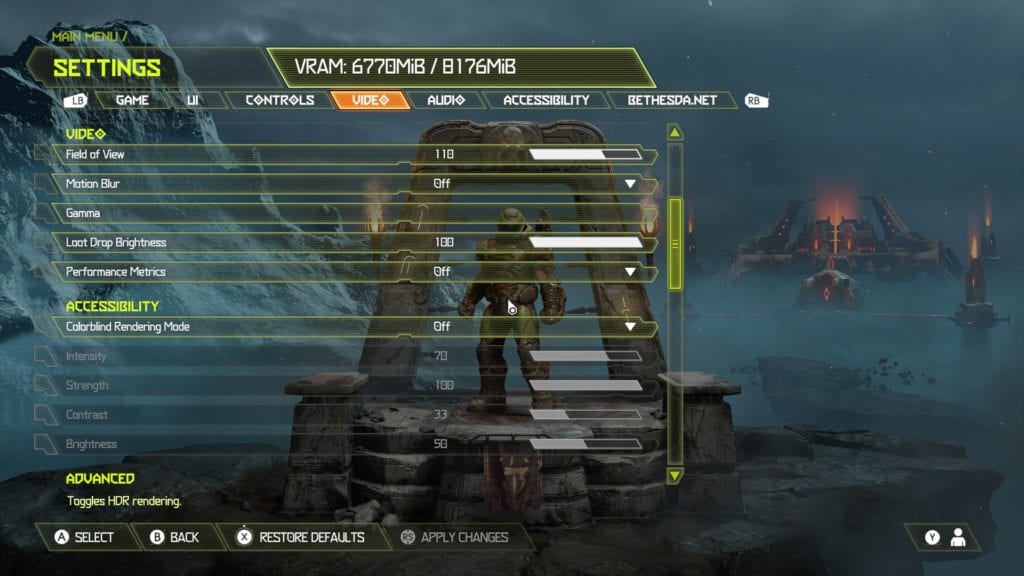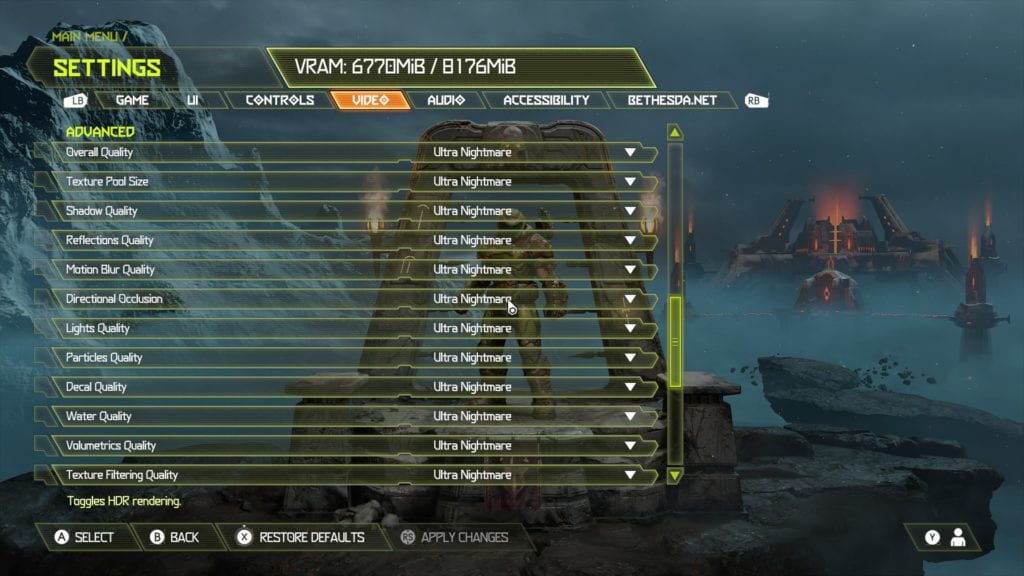 What? I told you there were a lot of options. As you can see, Doom Eternal comes with the typical options for field of view, going all the way up to 115. It's a pretty standard, if extensive, list of things to choose from. You can even change the loot drop brightness!
You can choose presets from the same large list, all the way from Low to Ultra Nightmare. Pretty much everyone with a GPU that was made in the last decade should be able to at least run this thing. That is very much in line with the last game, which could be turned into full-on potato mode. Then again, they got that thing to run on a Switch, so it's a wonder they didn't make a friggin' Wii version just for the hell of it. (Relax, I'm kidding.)
If you want a ton of screenshots to show the difference between everything set to Low and Ultra Nightmare, then fine, here. TAKE THEM.
You probably won't be able to tell much difference between them. Even when I was looking in full quality the difference was surprisingly small, except for the water and reflections at least. You can also bump sharpening up too, which adds an extra layer of smoothness.
Handy and capable
Doom Eternal also has a suite of accessibility options. You can turn off tips and tutorials. Plus, if you die too many times, you supposedly get some extra armor to get you through, which can be turned off. With it turned on, it never actually activated for me, so I'm not sure what's up with that. Of course, there are also colorblind modes and aim assist. But if you're on PC, you should be playing with a mouse and keyboard, so you don't need no aim assist.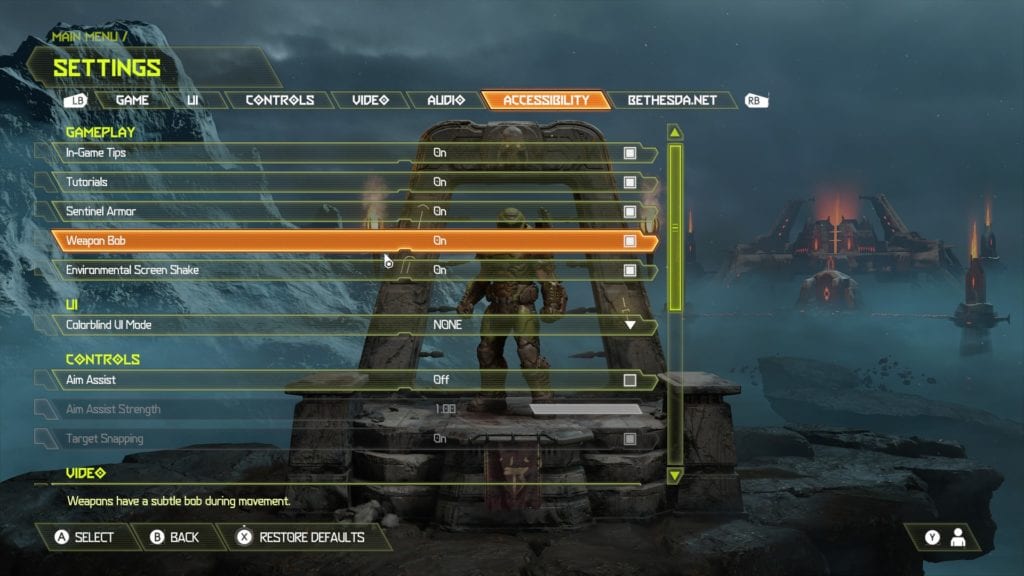 And then we have the controls. You can play Doom Eternal with a controller, or you can play it the right way. It's got all the options you'd want to make yourself as comfortable as you're going to get. One thing that's worth mentioning, though, is that, if you have a controller plugged in, all the button prompts will be for controllers — even if you've got the controller disabled in the menu. Plus, if you decide to disable the controller in the menu instead of just unplugging it, you won't even be able to enter the level after you die, as it requires a controller button press to activate. It's just really strange.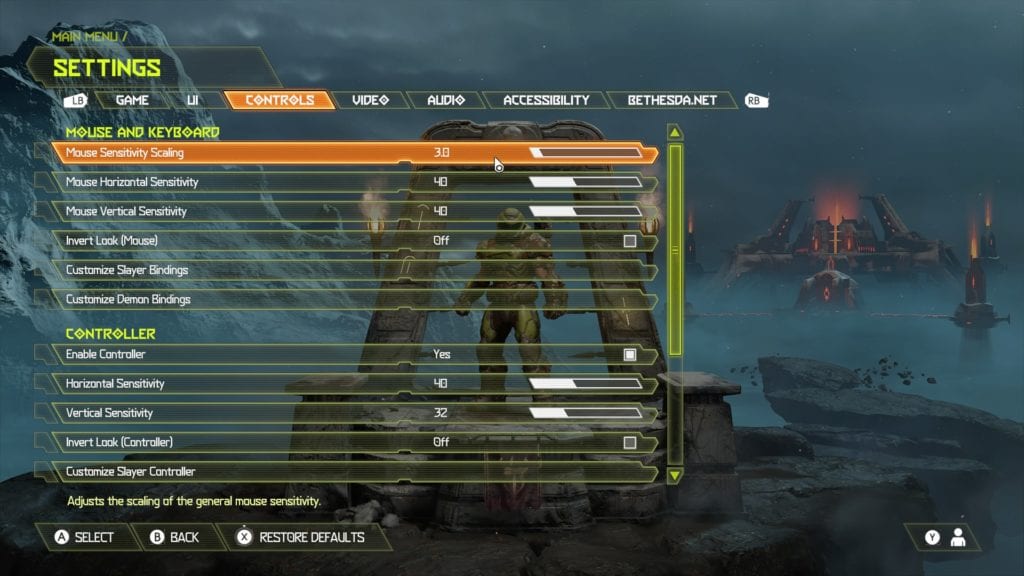 Everything you'd expect
Unsurprisingly, Doom Eternal has an excellent PC version. You'll likely be able to run it no matter what, and it's got all the options they could think to throw at you. However, some of the guns do have some very flashy muzzle effects, so photosensitive people should be wary. The game does start out with an epilepsy warning, though, so the smart photosensitive people (not me) aren't likely to be playing it anyway.
One more thing I'd truly regret not mentioning is how long it takes to get into the game. Doom 2016 on PC really feels like it takes forever to get into much of the time. On the same machine I'm playing Doom Eternal on, it would often take me minutes just to get to play. And that time more than doubles if we're talking about Snap Maps. But here, the menus are breezy and painless. No more jumping between multiple, slow-loading menus to get to the action. The load times on an SSD are also very quick. Dying often resulted in me getting back into the action in mere seconds, which is a gigantic improvement. I'm very happy with the game on this front.
So, there you have it. Now you can get violently torn apart by hordes of demons without worrying about if you can run the game. All you need now is an actual demon to keep in a cage that randomly screams at you during tense combat sequences. Y'know, for that sense of immersion, and somebody gotta get those Doom 3 jump scares in.