Dota 2 has received its first major Battle Pass update. We've now got access to the second Immortal Treasure of cosmetics, as well as this year's special annual mode. Not only that but we've already surpassed the prize pool goal, with Valve offering up 10 free Battle Pass levels as a result.
I'm not sure which is bigger – a new gameplay mode, or a slew of new hats – but we'll go with the hats first.
The Immortal Treasure
Dota 2's Immortal Treasure II offers up new cosmetics for Dazzle, Timbersaw, Grimstroke, Pugna, Warlock, and Luna. Each time you open one of these Treasures, you're guaranteed to get one of these items you don't have until you've collected them all. In addition to this, there are rare golden versions of the Luna and Timbersaw items, a rare mane for Lion, and an ultra rare item for Ember Spirit. These aren't guaranteed: those are purely up to chance. There's also a cosmically rare Overgrown Emblem custom hero effect, which… well, it's cosmically rare. Don't bet on getting one of those.
Everyone with a Battle Pass gets one of these Treasures for free, with more available as you level up the Pass. Each of these offers custom visual effects for abilities in addition to being pretty cosmetics, while the Overgrown Emblem has your hero leave a purple blooming trail in their wake.
Wrath of the Mo'rokai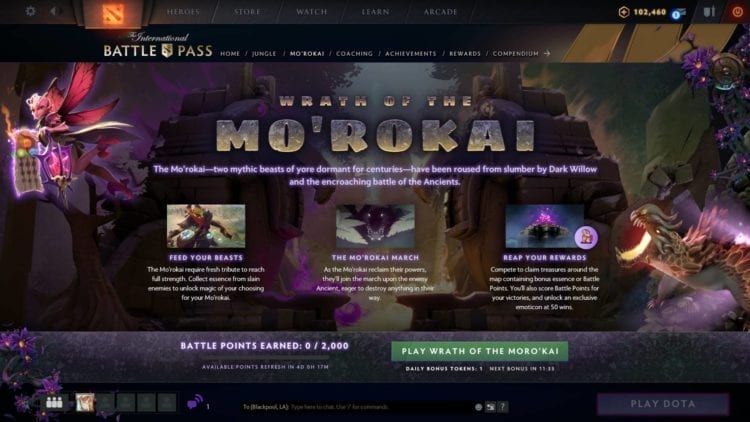 I haven't had a chance to play the new Dota 2 game mode, but it's called Wrath of the Mo'rokai and it's available for Battle Pass owners right now. If I'm reading it correctly, it's a "regular" game of Dota 2 with one caveat: the titular Mo'rokai. Each team has one. Killing enemies and finding caches around the map empower the Mo'rokai, until such time as it wanders into the lanes towards the enemy ancient. Apparently, they get stronger with allied heroes nearby, but this may just be speak for "you should probably defend them."
This sounds suspiciously like the Year Beast mode from awhile back, but if nothing else it'll at least offer up bonus Battle Points to level up your Pass. Each victory nabs you 250 points (up to a total of 2000 per week, so two Battle Pass levels). The amount of points earned and the total you can earn per week increases as you level up your Pass. There are also Battle Point bundles to be found around the map, and you'll get one chance a week to make your victory count for 1000 points instead.
You can check out the new Immortal Treasure items over on the official Dota 2 site, and if you have the Battle Pass, you can try out Wrath of the Mo'rokai for yourself.