Valve has added the Immortal Treasure II has added to the The International 2020 Battle Pass for Dota 2. Which is a sentence that will look like a lot of random words if you're not immediately familiar with what that means.
Effectively: if you've bought the Battle Pass for Dota 2's currently ongoing The International 10 event, you will now have at least one Immortal Treasure II to open up. It'll contain one of six cosmetic items, and may additionally contain one of four rare, very rare, or ultra rare items. There's even a "cosmically rare" chance of getting a Divine Emblem, but good luck with that.
All Battle Pass owners get one of these Treasures just for purchasing the Pass, while more can be earned by levelling the Pass up.
Immortal Treasure II contents
So, specifics! The six "standard" items are for Magnus, Slardar, Troll Warlord, Sven, Silencer, and Witch Doctor. As the name of the Treasure implies, each is an Immortal-quality item. You can expect custom animations for an ability, plus some lovely ambient effects and the like. If you want to see them in action, you can take a look at the official Battle Pass site for fully animated looks at these cosmetics.
The rare item is a set of wings for Jakiro, and it's nice to see Dota 2's two-headed dragon getting a bit of love. The very rare items are golden variants of the Slardar and Witch Doctor items. But the real star of the show is the ultra rare item: a cub carrier for Ursa, which effectively adds a back-mounted Boo-Boo to his Yogi Bear. Interestingly, it also comes with the Not Just Your Average Bear taunt, which was a reward for levelling up last year's Battle Pass.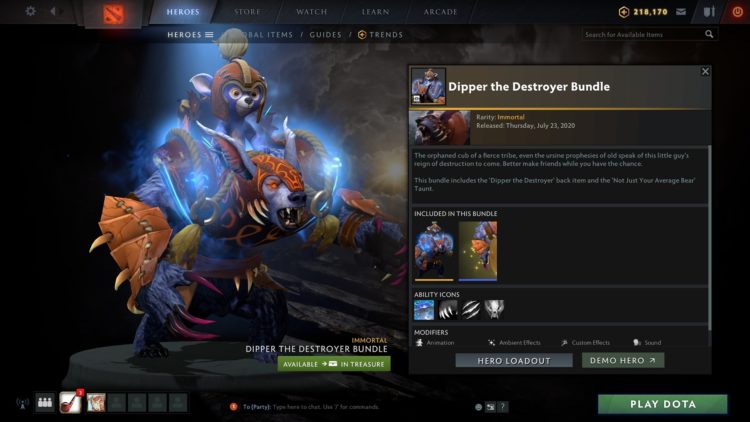 Unfortunately, as that's an ultra rare item, you'll need a fair bit of luck to get it. Most people are going to need to open a lot of Treasures to acquire that one.
This Dota 2 Battle Pass is ongoing right now, and has so far raised The International 10's prize pool to nearly $30 million USD. Remember that we've still got the Immortal Treasure III to look forward to, so that prize pool is likely to skyrocket further. However, The International 10 tournament itself has been delayed until further notice due to COVID-19.
The Battle Pass is due to end on September 19th.