The final piece of DLC for bloomin' excellent roguelite Enter the Gungeon, titled A Farewell to Arms, has just been released. And as with all previous bits of DLC, it's absolutely and completely free.
Tweaks, Additions, And New Gungeoneers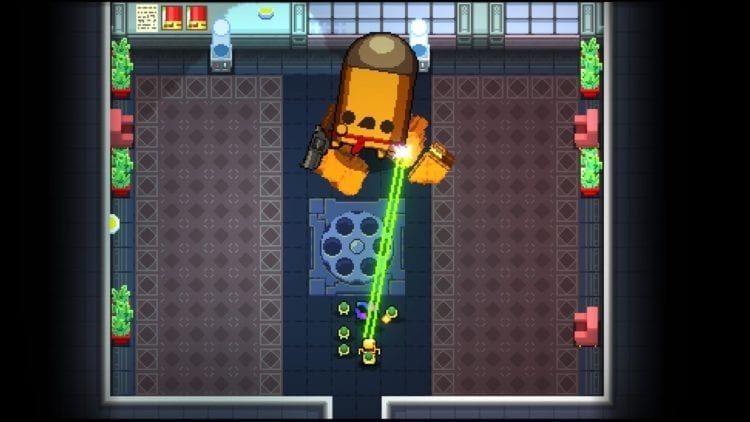 As befits a grand finale, A Farewell to Arms is a pretty sizeable addition to the game. A large number of weapons and items have been buffed, making them more viable. There's a secret floor called the RNG Department, filled with hybrid enemies and a brand new boss. Rainbow Mode adds a rainbow chest to every floor and lets you pick one item from them… but that's the only item you get for that entire floor. There's a new shrine, over 35 new guns and items, new synergies, alternate starting weapons and costumes, rebalances, and quality of life improvements. Whew.
Apparently, this all follows on from the same idea as previous expansions: make the player feel more powerful, more often. I somehow doubt this is going to make the game easy, mind.
More interestingly, there are also two new Gungeoneers. Players have now killed the past often enough that things are getting a bit weird, so the Paradox – a character who starts with a random starter gun, a random gun, and a random item – is now playable. There's also a second new Gungeoneer and, while I know who that is, the actual Steam patch notes keep it a secret. I figure I might as well too, despite the fact that I'm pretty sure it's both quite guessable and in the trailer itself.
A Farewell To The Gungeon
Disappointed as I am that this is the last major update we'll get for Enter the Gungeon, I'm pleased that it's both a massive update and entirely free. If you haven't played Enter the Gungeon, then this is a pretty good time to get into the top-down bullet hell roguelite shooter. In honor of both the release of A Farewell To Arms and the third anniversary of Enter the Gungeon's launch the game has been discounted by 50% on Steam, dropping it to a rather lovely $7.49 USD (that's £5.49 GBP for us UK denizens).
You can check out the trailer for A Farewell to Arms below, and re-enter the Gungeon with the new expansion right now.