Whether you prefer to call it soccer or football, there is no doubt fans of the Beautiful Game have been battling it out in the video game arena over which is better. Electronic Arts' FIFA franchise has been the market leader, counting on the fact that it has cornered the licensing market. However, Konami's Pro Evolution Soccer, or PES, has been making up the ground with stellar gameplay and a more in-depth simulation. I am certainly a big fan of the latter, and it is only going to get better as Konami has revealed an upcoming free content update will add Euro 2020 content to eFootball PES 2020 on April 30.
European warfare
Players can look forward to playing tiki-taka and route one football with all 55 UEFA national teams — not just the teams that have qualified, but all teams who managed to enter the qualifying stages. You are getting updated squads and new stadiums. Both Wembley Stadium in London and Russia's Saint Petersburg Stadium will be included in the update. Even the official match ball is getting the DLC treatment, with the final's ball coming in late June.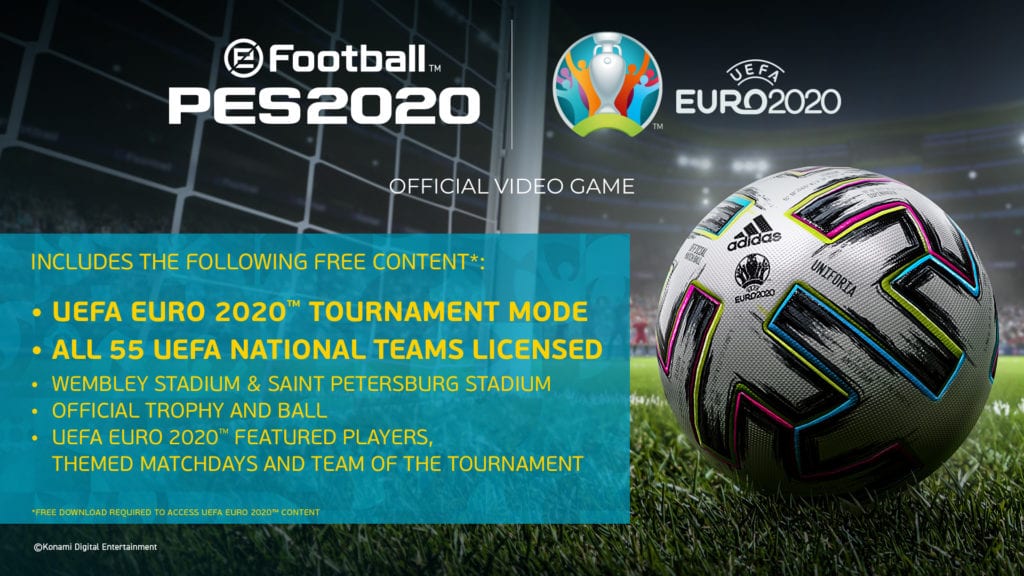 It cannot be a themed add-on without the requisite tournament mode. PES 2020 will get the official Euro 2020 tournament option, plus Euro-themed Matchdays. This includes online challenge events that will coincide with the actual tournament. Fans of myClub can also expect Euro-themed feature players up for grabs.
Reality bites
While virtual football can go on without a hitch, reality is facing a starker future. The possibility of cancellation or postponement of Euro 2020 due to the threat of the coronavirus/COVID-19 is very real. The likes of E3 and GDC were not spared due to the danger of large crowds, and the Euros are potentially even more dangerous. All matches in Italy's Serie A, France's Ligue 1, and Spain's La Liga have either been suspended or played behind closed doors, with the English Premier League likely to follow.
If those come to pass, at least we can enjoy the tournament in the comfort and safety of our own homes.