Everspace 2, the single-player space shooter from Rockfish Games, recently reached its Kickstarter goals. If you backed the Kickstarter at the Standard Edition or higher, you now have access to the Prototype build. The Prototype is similar to what was shown at recent gaming events, but it has a few additions and bug fixes. If you're a backer, keep an eye out for a Steam key in your email.
For an idea of what you'll see in the Prototype build, check out the announcement trailer.
Concept art and UI improvements
Rockfish also showed off concept art for some of the new vessels we will see in Everspace 2. The mining corporation Grady & Brunt is making a big return, and you'll encounter mining vessels and capital ships operated by the powerful company. The mining vessel looks utilitarian, without fancy frills or adornments. For a closer look at some of the concept art, head over to the latest developer blog.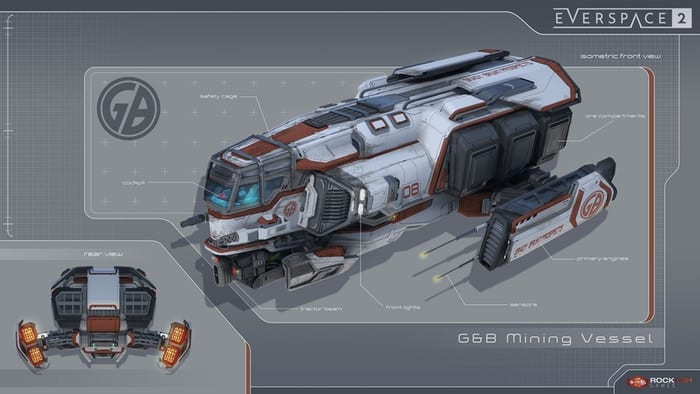 Rockfish also showed off some UI improvements. The new inventory system lets you sort, compare, and drag and drop items as you outfit and upgrade your ship. Your ship is your character in Everspace 2, so it's important they get the inventory system right. Especially with the amount of loot that you could run into out in space.
A bigger Everspace
If you played the first Everspace, you probably remember it for its rogue-lite action and frantic pace. However, Everspace 2 is broadening the scope of the first game. Actually, that might be an understatement. It's opening up the universe to players. You can engage in your typical space sim pastimes: mining, pirating, trading, and so on. Our own Tim McDonald tried out the preview build last month and walked away optimistic, saying that if Rockfish pulls it off, then Everspace 2 "might help scratch an itch for a more frantic, action-focused open-world space shooter."
There is also a revamped forum for you to check out if you're interested. Everspace 2 has a planned release date for 2021, and you can wishlist it over on Steam.