Apex Legends was EA and Respawn Entertainments answer to the battle royale genre. The game saw a shadow launch, essentially releasing out of nowhere across the PC, PlayStation 4, and Xbox One platforms. That was back on February 4, 2019.
Initially, the game saw a surge in players checking out the battle royale newest toy on the block. And for the most part, the response for the game was positive enough that its developer, Respawn Entertainment, went on to pursue an inaugural season, following year-long roadmap. This plan also included the launch of its first season on March 19, 2019. And since then, we haven't really seen much in regards to update or content. That is until the EA Twitter account hooked players up with some info on an upcoming timed event that will come between season one and two.
Group up and stay low, the hunt is about to begin. Get your first look at:

🔸The Legendary Hunt
🔸Our next Double XP event
🔸An update on Season 2 Battle Pass

🔎: https://t.co/1cz9a9SZHL pic.twitter.com/XbbvcsX5F1

— Apex Legends (@PlayApex) May 30, 2019
The Legendary Hunt
The Legendary Hunt is the official name for the limited event happening next week in Apex Legends. During the two weeks of the event, there will be a slew of additions coming to the map known as Kings Canyon.
Apex Elite Queue
This is an opportunity to stay in the winner's circle, so to speak. This feature will place you among other champions, creating an ultra-competitive atmosphere. The only catch is that you place in at least the top five, allowing you to be placed in a top only queue. In order to keep playing in the Elite rooms, you'll have to continue to place in the top five. If not, it's back to the practice field you go.
Legendary Hunt challenge rewards
To keep the event fresh, there are a number of different rewards to be gained through limited-time challenges. These come in the form of new Rare, Epic, and Legendary skins.
Double XP weekend
Get ready to rack up some of them there points. Starting on Friday, June 7 at 10AM PST, a double-XP event will run until Monday June 10, at 10AM PST. This event provides double points to progress both the base and Battle Pass progress.
Battle pass bonus XP
You're in luck if you've already purchased the Battle Pass. You can now earn an entire level when you finish within the top five in any match. It should be noted that you can only do this once per day.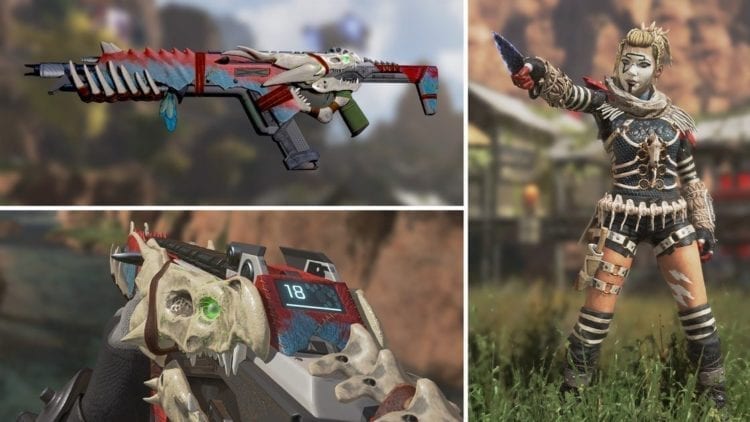 Legendary Hunt Skins
It looks like there will be more skins added to the in-game store. These will at least be on rotation every three to four days while the event is live, these skins will rotate and be available for direct purchase.
Two bonus skins for battle pass owners
Another perk comes for those who own the Apex Legends battle pass. If you have the Wild Frontier pass, you'll automatically get Legendary Honored Prey R-301 skin (seen in the image above), free. And, for those who reach battle pass level 15 before the events over, a new Wraith Night Terror Legendary skin cometh your wayeth.
The last bit of information comes in the form of when exactly we'll hear more on the limited event and the start of season two. Respawn Entertainment notes that more info is on the way come Tuesday, May 4, 2019. Which, probably means, that's when the event will kick off and send us off to the hunt. Season two information won't be revealed until E3 2019 during EA Play presentations.