We're halfway through the month, which means we get an update on what's coming next to Xbox Game Pass for PC. If you're a fan of wacky action, Souls-likes, and world domination, you'll want to pay attention. Eight games are rounding off Game Pass for PC in November 2021. These include Mortal Shell, Evil Genius 2, and My Friend Pedro. And all of which are pretty damn good.
You can play a couple of games already, so long as you have EA Play. I didn't include these as PC games, but they are per se. Both Dragon Age: Origins and Dead Space are available via Cloud Gaming. But again, you'll need to have an EA Play subscription, which comes along with Xbox Game Pass Ultimate.
The other games start becoming available tomorrow. Right out the gate is Next Space Rebels, a "YouTube in space" game, available on November 17. Following that, we have four games landing on November 18. This will include Exo One, an interplanetary exploration game that's hitting Game Pass as a day one launch title. Following that will be Fae Tactics, My Friend Pedro, and Undungeon. Pedro is a personal favorite of mine, bringing goofy-ass antics and a talking banana to a game that brings back bullet time in explosive fashion. Two games are coming to the service on November 23: Deeeer Simulator and Mortal Shell (which may include the DLC). Evil Genius 2 ends off the list on November 30.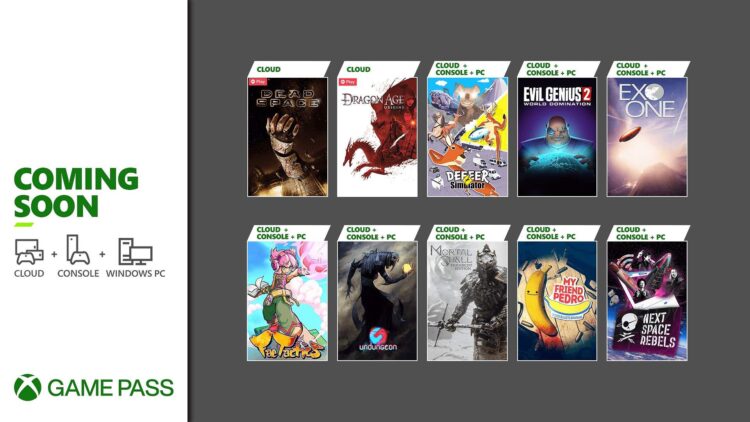 Game Pass some will enter, some will leave
As is typical, with more games getting added to Xbox Game Pass for PC in November 2021, others must go. Eight games are getting the boot on November 30. These include Call of the Sea, FIFA 19, Football Manager 2021, Football Manager 2021 Xbox Edition, Haven, Hello Neighbor, Morkredd, and Va-11 Hall-A: Cyberpunk Bartender Action. Unless I missed something, I'm surprised about the Football Manager games already taking off. They were added to the service only a week ago. Well, if you're looking to get some time into those games, you better do it quick.
Beyond the above, Halo Infinite's multiplayer got a surprise release to Game Pass yesterday. It didn't go smoothly, with players reporting blue screens popping up when trying to play the game. But it has since been fixed.